Mar 16, 2018
Indulge in earthy matcha and sweet white chocolate in these delicious Mini Matcha Green Tea White Chocolate Pies!
Inside the mini "cups" of light and flaky pie crust sits a naturally green matcha-white chocolate filling that is uber smooth, creamy, rich, and sweet.  These single-serving pies may be little, but they are oh so flavorful.  What they lack in size, they make up for in flavor and good looks!
Thanks to Immaculate Baking Co. for sponsoring this post, and thank YOU for supporting the brands that keep Desserts With Benefits going!  All opinions are mine and mine alone.

Just two days after making a batch of my Homemade Matcha White Chocolates, I had made quite a large dent in it just by snacking on that magical substance straight.  With what chocolate I had left, I wondered what dessert recipe I could incorporate it into.  I turned to my Instagram peeps and asked if they'd rather have 1) Matcha Pinwheel Cookies or 2) Mini Matcha White Chocolate Pies.  Over ⅔ of people voted for 2), so mini pies it is!  Turned out perfectly because I had a couple rolls of my favorite pie crust in the fridge.  My sweet tooth was outta control and getting a little demanding, so I quickly drafted up a recipe.
Pie crust?  Check.
Filling?  Hmmm…  what should go in it?
Well, obviously my Homemade Matcha White Chocolate, but what else?  What would add a creamy texture while still allowing the filling to firm up (no one wants a soupy pie!) and also not obscure the pretty green color?  I opened my fridge and saw a few possibilities:  full fat coconut milk, Greek yogurt, cream cheese, and ricotta.
I didn't see the point in using coconut milk since this pie isn't vegan or dairy free.  Greek yogurt might taste a little too tangy.  Cream cheese would probably be good, but I was reserving that for Cheesecake-Swirl Brownies I'll hopefully bake off this weekend (crossing my fingers this will be my 3rd and FINAL trial…  I can't seem to get the texture right!).  Soooo ricotta it is!  And what a good decision that was.
The thick and rich ricotta cheese works as a perfect base paired along with the sweet and grassy matcha green tea.  The brilliant green color makes these Matcha Green Tea White Chocolate Pies the perfect treat for St. Patrick's Day, birthdays, Christmas, or any occasion with a green theme!

Matcha powder makes this pie naturally green (no need for the artificial food dyes typical to most green desserts and St. Patrick's Day recipes), the ricotta cheese adds an amazing richness, and a little splash of vanilla extract brings all the flavors together.
These Matcha Green Tea White Chocolate Pies are super easy to make too.  No need to make a pie crust from scratch and no need to cook a custard- or pudding-like filling.  Just unroll the pie crust and throw your filling ingredients in a blender!

Mini Matcha Green Tea White Chocolate Pies
Prep Time: 23 minutes
Cook Time: 12 minutes
Total Time: 35 minutes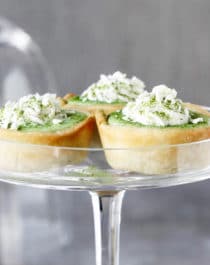 Ingredients:
Directions:
FOR THE CRUST:
Preheat your oven to 350 degrees Fahrenheit.
Bring the pie crusts out of the fridge and let it sit at room temp for about 20 minutes, or until slightly softened (if you unroll it cold, it could tear).
Unroll the pie crusts onto a clean surface. Use a 4″ circle cookie cutter to punch circles out of the crusts.
Firmly press the pie crust circles into ungreased muffin tin cups. Bake for ~12 minutes, or until golden brown.  Let cool completely.
FOR THE FILLING:
In a blender (I used my NutriBullet), add the ricotta, matcha powder, and vanilla extract. Blend until smooth.
Pour in the melted matcha white chocolate, then blend again.  Spoon into the cooled pie crusts.  Refrigerate until firm.
Serve with all-natural whipped cream, shaved white chocolate, and a sprinkle of matcha.  Enjoy!
Notes:
**You may substitute the Homemade Matcha White Chocolate with 8.5oz White Chocolate + 1½ tsp Matcha Powder.
If you want a very strong green tea flavor and darker green color, you can increase the amount of matcha.  I'd only recommend this to those who LOVE matcha, as matcha can get a little overpowering if you use too much or are not used to its flavor.


All images and text ©Desserts with Benefits.
Serve these pies just as they are, or if you're feeling a little extra, top 'em with all-natural whipped cream, shaved white chocolate, and a little sprinkle of matcha.  No regrets.
You can also serve these along with some freshly sliced strawberries for a pop of color and fruity sweetness.  Matcha + strawberries is a classic flavor combo just as classic as matcha + white chocolate.
These Mini Matcha White Chocolate Pies are so rich and creamy and delicious, you'll swoon after every bite.
And you'll be satisfied after just one serving (unlike typical pies that will make you want to eat seven slices in a row without getting full, thanks to all that sugar and corn syrup).

Green is to St. Patrick's Day as damn good is to these Matcha White Chocolate Pies.
Enjoy!
.
With love and good eats,
.
– Jess
.
Get more stuff like this
Subscribe to our mailing list and get interesting stuff and updates to your email inbox.
Thank you for subscribing.
Something went wrong.