May 10, 2018
This healthy Peanut Butter Baked Oatmeal is soft, light, fluffy, and peanut buttery, yet packed with protein, fiber, and healthy fats, and none of the added sugar!
It also happens to be gluten free, dairy free, and vegan too.  WHOOP WHOOP!

This flavorful Peanut Butter Baked Oatmeal makes for the ULTIMATE breakfast.
Serve it warm or cold alongside some sliced bananas or strawberries, a big spoonful of drippy peanut butter, a drizzle of milk, cream, or pure maple syrup, or utensils alone.  Every bite is like a warm and comforting hug!

Healthy Peanut Butter Baked Oatmeal
Prep Time: 20 minutes
Cook Time: 40 minutes
Total Time: 1 hour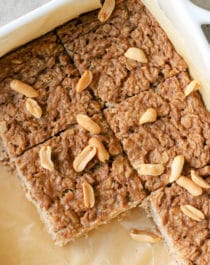 Fat per serving: 7
Calories per serving: 170
Ingredients:
2 cups Unsweetened Vanilla Almond Milk
185g (¾ cup) Unsweetened Applesauce
64g (¼ cup) Natural Peanut Butter (no sugar, salt, or oil added)
2 tsp Stevia Extract
60g (½ cup) Peanut Flour
14g (2 tbs) Ground Flaxseed
2 tsp Ground Cinnamon
¾ tsp Salt
192g (2 cups) Old Fashioned Rolled Oats
1 tsp Double-Acting Baking Powder
Directions:
Preheat the oven to 350 degrees Fahrenheit and line a 9″ brownie pan with parchment paper both ways.
In a large bowl, whisk together the almond milk, applesauce, peanut butter, and stevia extract.
Whisk in the peanut flour, flaxseed, cinnamon, and salt.
Fold in the oats and baking powder.
Pour batter into the prepared pan and bake for ~30-40 minutes, or until the surface springs back when tapped.  Let cool slightly, then slice.  Serve warm!


All images and text ©Desserts with Benefits.
.
Here is the recipe's nutrition label:
Wow, can you believe it?  How can you go wrong with that nutrition label?  I mean, seriously…  only 170 calories and 7g of healthy fats, plus 4.5g of filling fiber and 8g of satiating protein.  Oh, and zero added sugar too!  You are totally allowed to have an extra slice  ?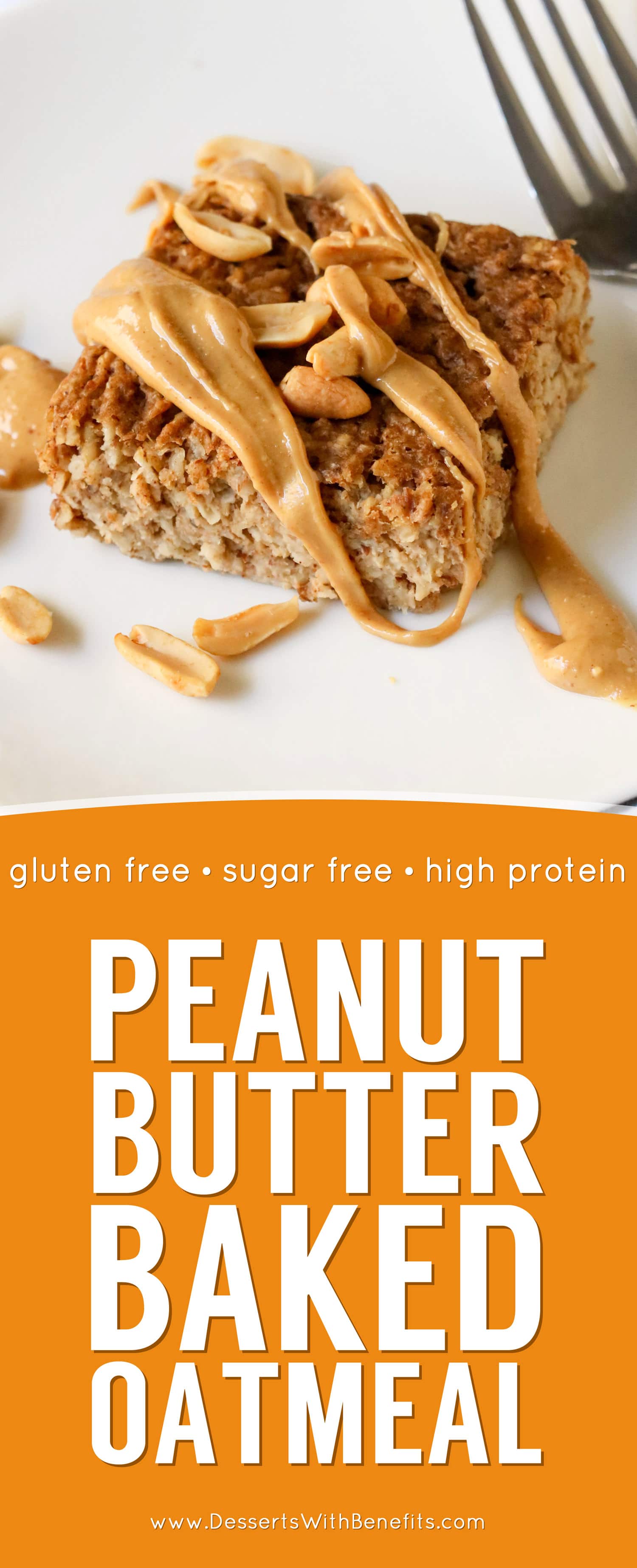 This Peanut Butter Baked Oatmeal is not only super easy to make, it's also super easy to eat!  How could you not want this Peanut Butter Baked Oatmeal deliciousness in your face for breakfast lunch, dinner, AND dessert?  ?
Enjoy!
.
With love and good eats,
.
– Jess
.
Get more stuff like this
Subscribe to our mailing list and get interesting stuff and updates to your email inbox.
Thank you for subscribing.
Something went wrong.