Feb 12, 2018
If you're short on time or don't feel like whipping up a waffle batter from scratch, take a shortcut and make these SUPER easy Crescent Waffles!  They're low in sugar, low fat, dairy free, and vegan, with just 90 calories each.  Oh, and best of all?  They're dang delicious…  it's like your favorite crescent roll in the form of a waffle — crispy on the outside, soft and fluffy on the inside.
Thanks to Immaculate Baking Co. for sponsoring this post, and thank YOU for supporting the brands that keep Desserts With Benefits going!  All opinions are mine and mine alone.

These Crescent Waffles will give you all the feels in all the right places.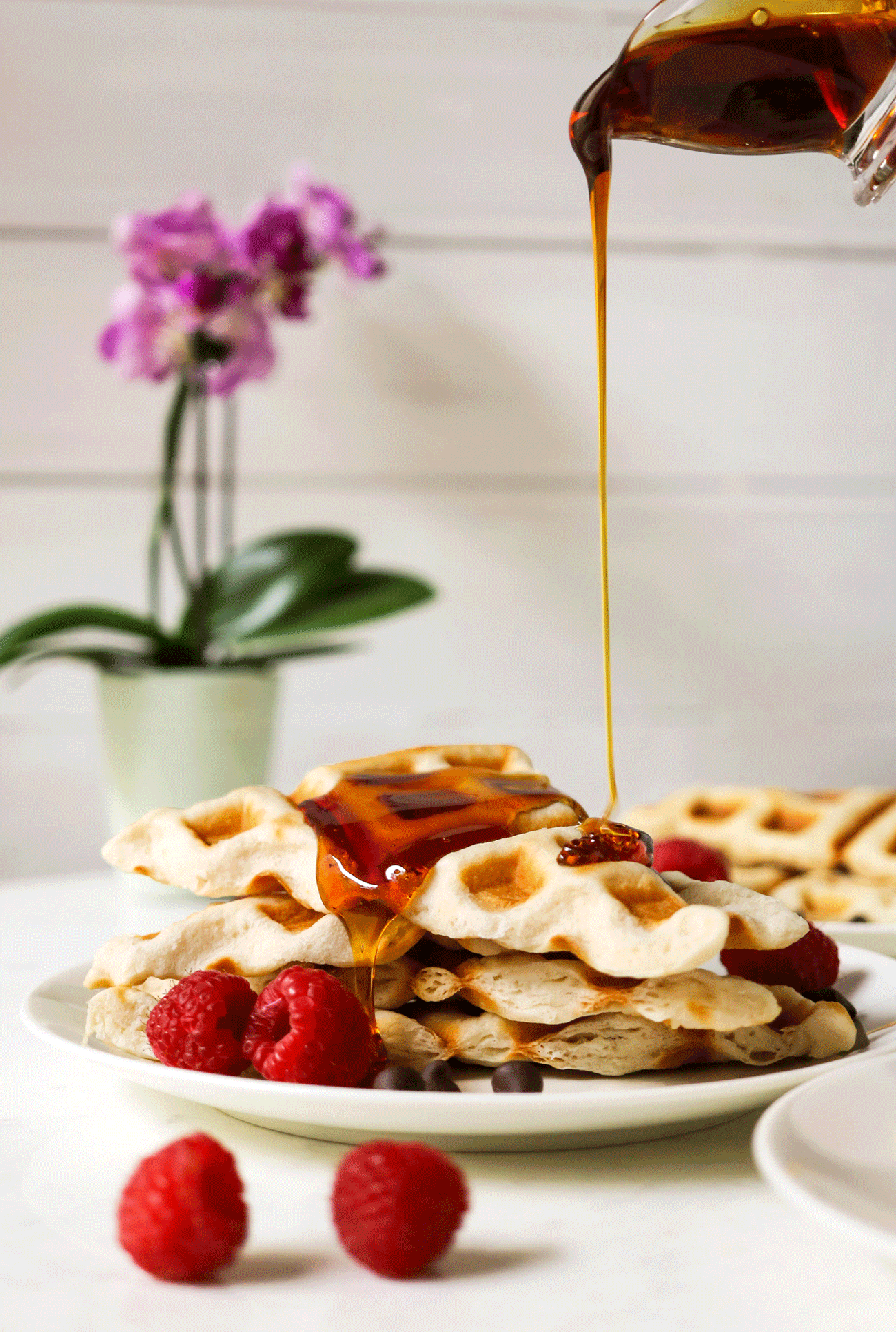 I've always loved waffles but had an aversion to making them…  for some reason I have the hardest time creating perfectly-crispy-yet-fluffy waffles.  I struck gold with these Pumpkin Buckwheat Waffles, but that recipe was a long time coming (aka, took about six rounds of trial and error).
BUT.  I struck gold AGAIN when I made these Crescent Waffles.  I was at the grocery store and saw that my favorite crescent roll dough was on sale.  Without even thinking I immediately picked up two tubes.  Did I have a recipe planned for them?  Nope.  But I know they're damn good and most definitely needed them ?

I was thinking about making my Jelly-Filled Donut Holes again only this time coating them in cinnamon-sugar instead of stuffing them with jelly, but when I opened my pantry I saw my waffle maker sitting there all sad and unused for over a month.  A MONTH.  *jaw drops*
I thought about what waffles to make.  I mean, I know I've got a few good waffle recipes, but I wanted something new.  I walked over to the fridge and saw the crescent roll dough.
CRESCENT WAFFLES — popped in my brain.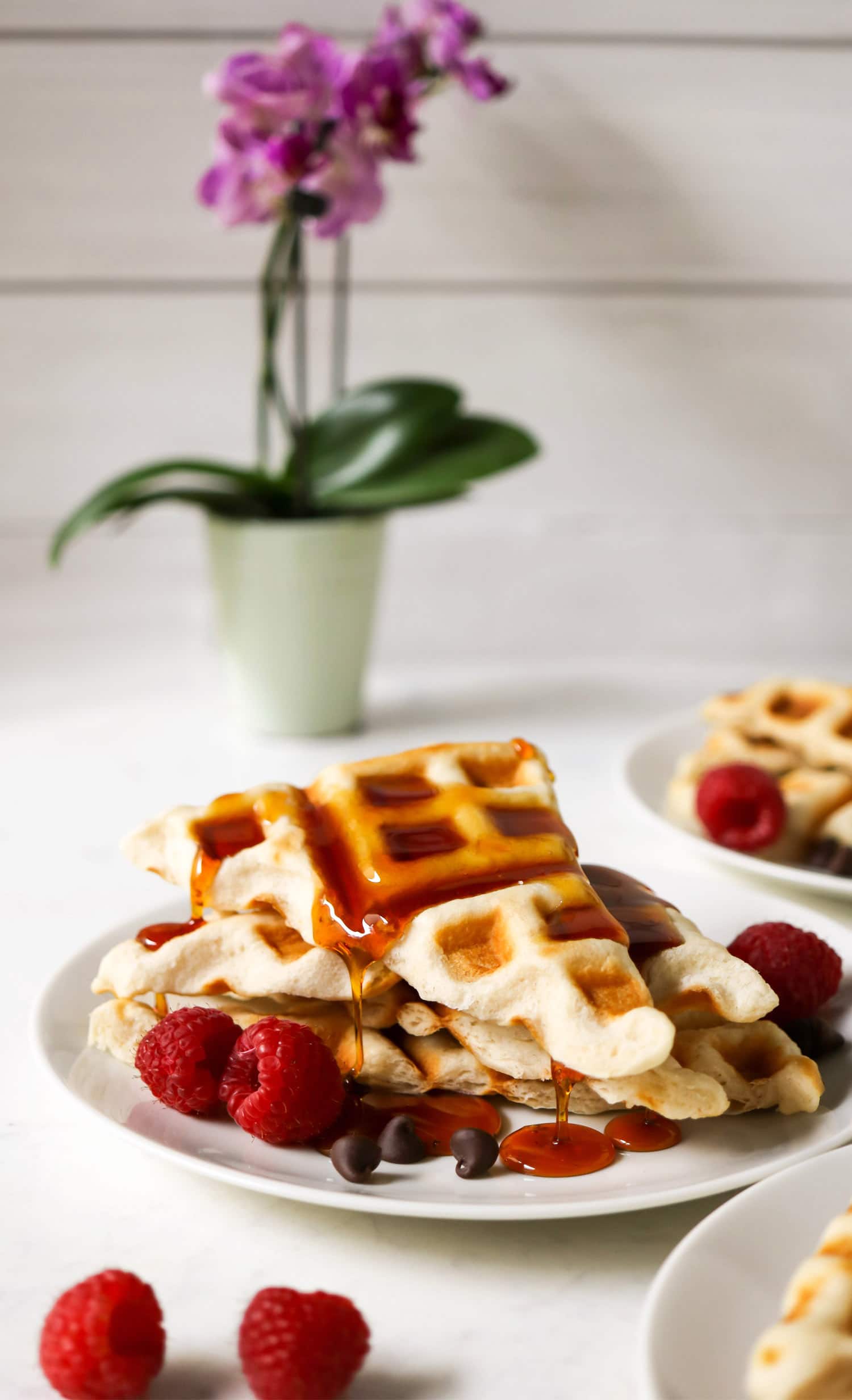 CRESCENT WAFFLES?!?
Oh yes, Crescent Waffles.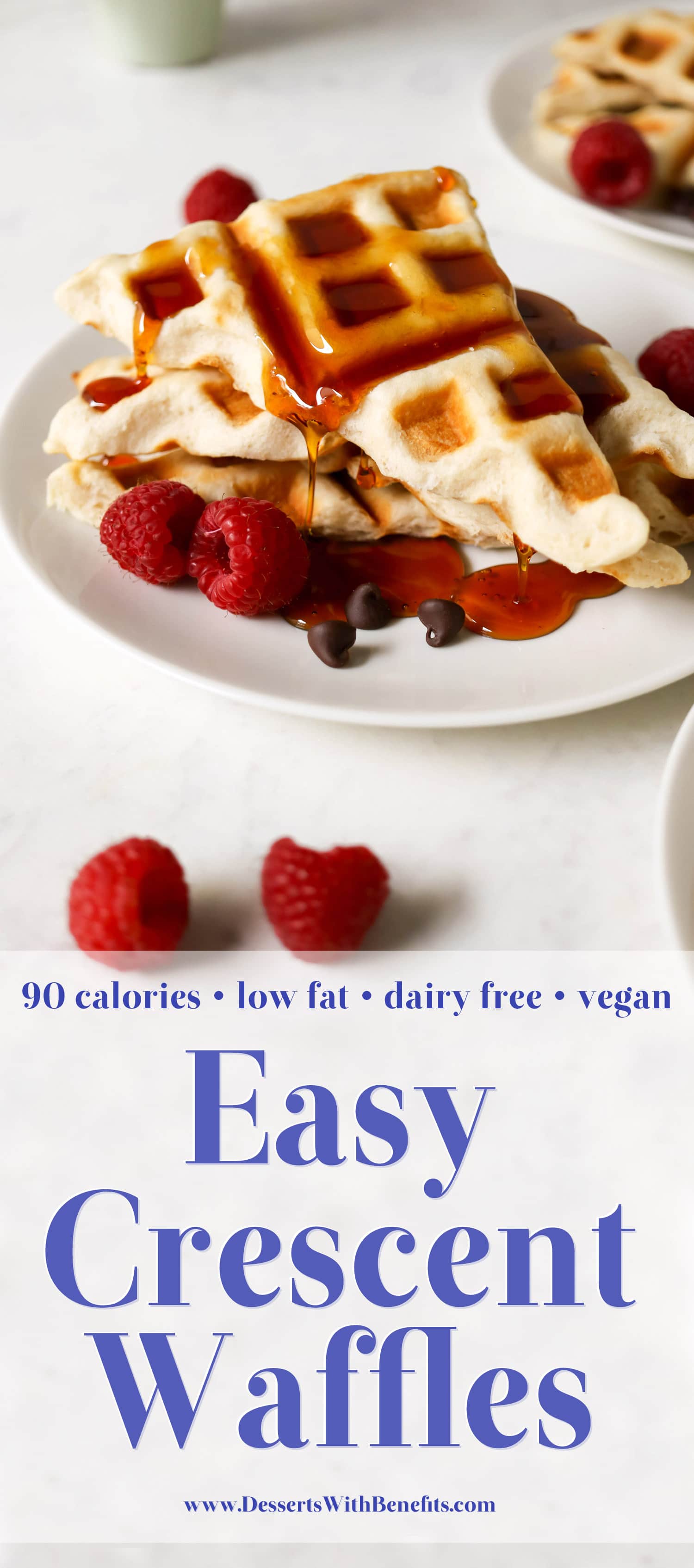 I turned on my waffle iron, unrolled the crescent roll dough, and got started, crossing my fingers it turned out.
And guys.  It did.  These bad boys turned out WAY better than I expected.  I almost burned my tongue eating one basically straight from the waffle iron lol.  When they're fresh and hot, they're super soft like a freshly baked crescent roll.  When they've cooled, they're crispy on the outside but still soft and fluffy on the inside.  This is literal perfection.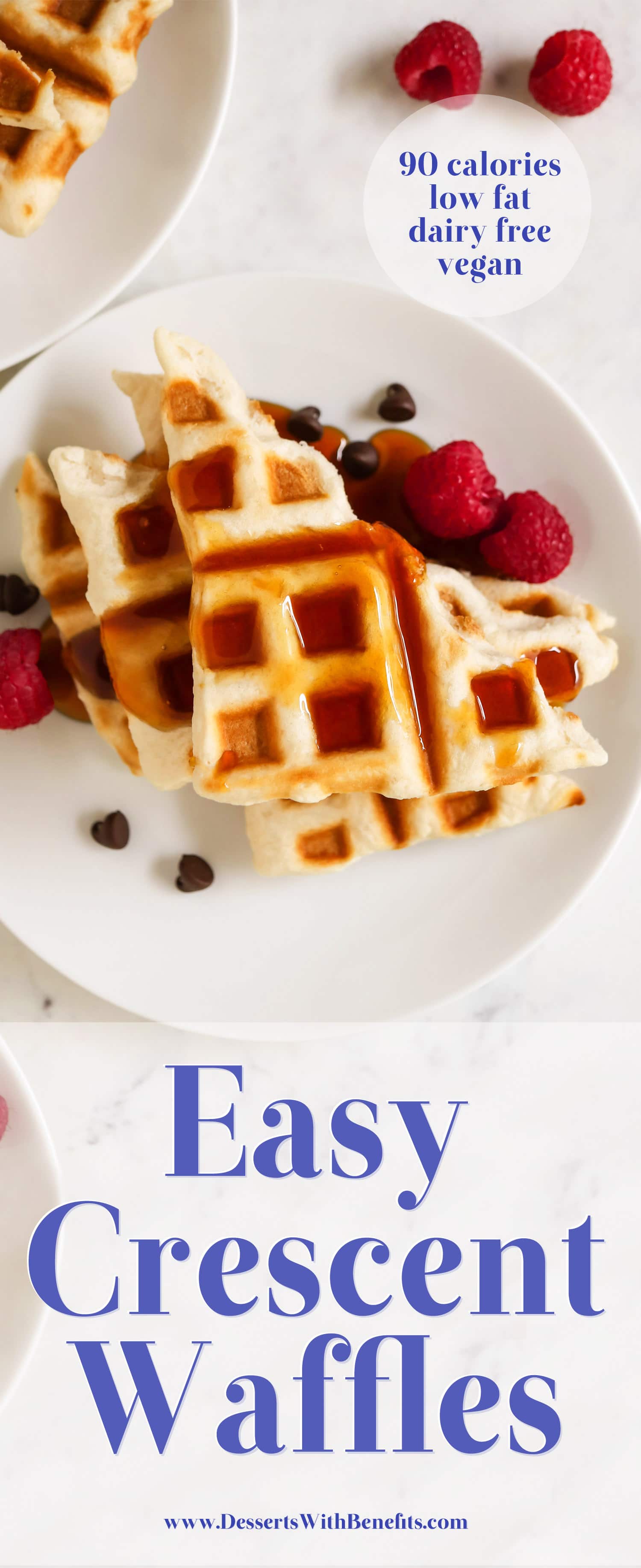 These Crescent Waffles are the ultimate comfort breakfast without the nasty ingredients!  Made with organic crescent roll dough and zero butter, artificial ingredients, hydrogenated oils, food dyes, or added sugar, this is a breakfast you can feel good about indulging in.  They don't taste low sugar, low fat, or vegan in the slightest!
I served my waffles with pure maple syrup, fresh raspberries, and chocolate chips.  And for those who wanted something a little more decadent, I served them uber drippy peanut butter and melted dark chocolate.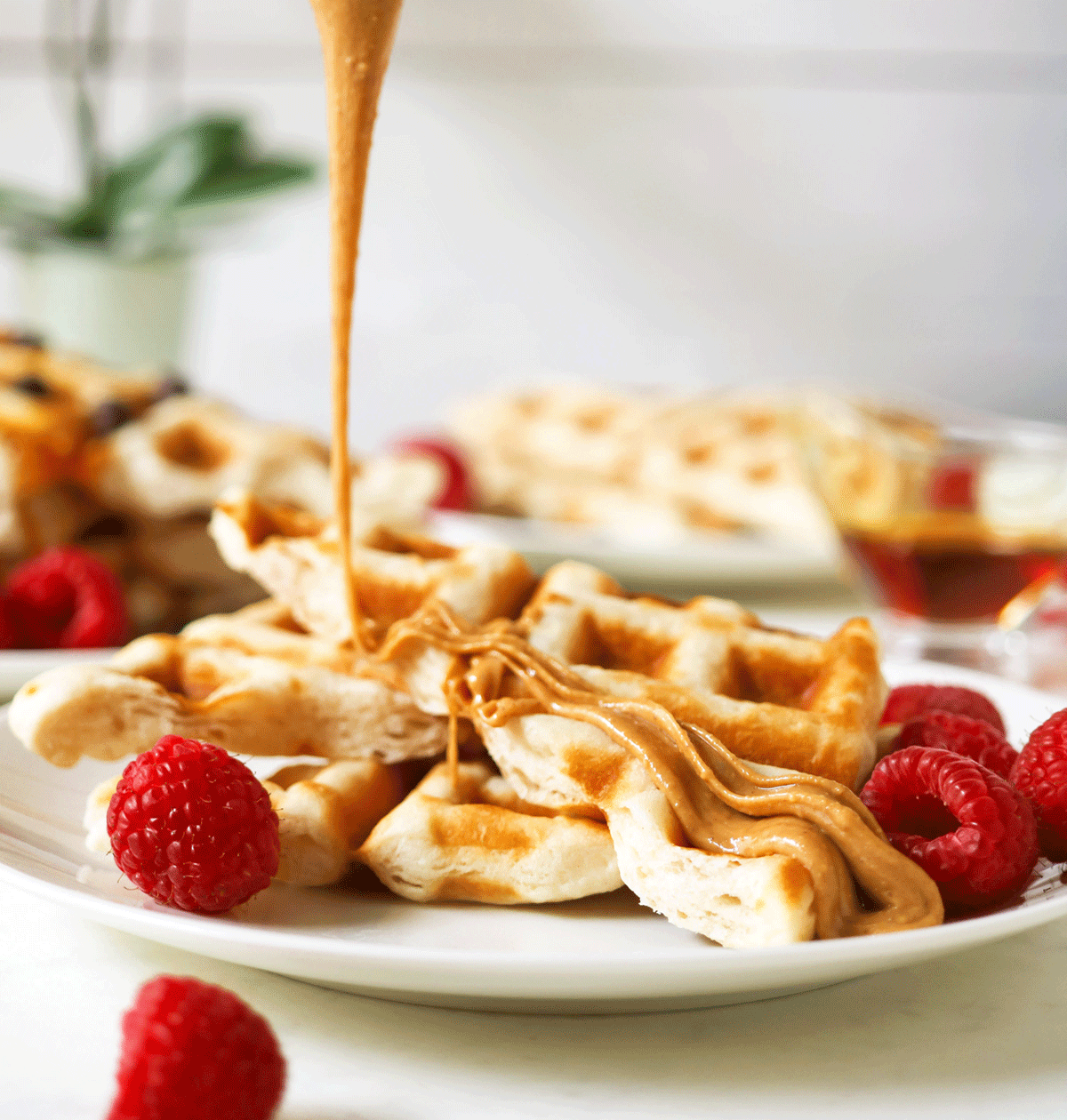 NO REGRETS.  BEST BREAKFAST EVA!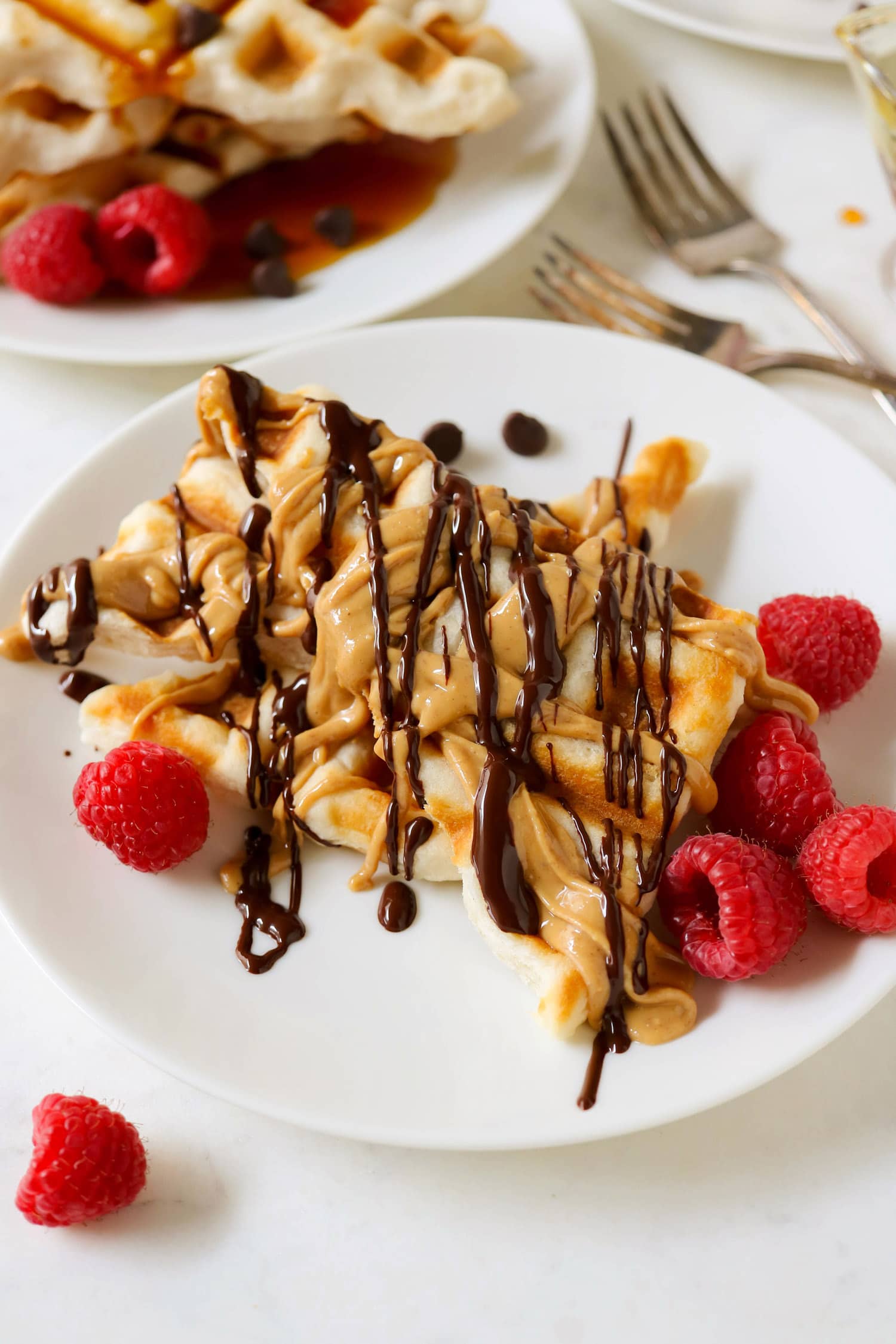 Easy Crescent Waffles
Prep Time: 10 minutes
Cook Time: 20 minutes
Total Time: 30 minutes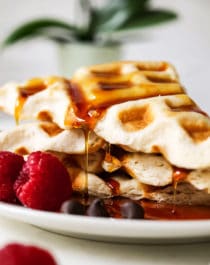 Fat per serving:
3
Calories per serving: 90
Ingredients:
Waffles:
Toppings:
Pure Maple Syrup (or Homemade Maple Syrup!)
Fresh Fruit (Raspberries, Strawberries, Blueberries, Sliced Bananas, etc.)
Peanut Butter (the drippier the better!)
Melted Dark Chocolate or Chocolate Chips
Whipped Cream or Vanilla Protein Ice Cream
Directions:
Preheat your waffle iron (I set my waffle iron to medium-high heat).  NO NEED TO GREASE IT WITH OIL OR COOKING SPRAY!
Pop open the tube of crescent rolls and unroll them onto a clean surface.  For the triangles, separate each roll of 4 crescent rolls into individual triangles along the perforated marks.  For the squares, separate each roll of 4 into 2, then smush the perforated marks on the dough so they stick together.
When the waffle iron is thoroughly heated, place 1-2 triangles onto the iron.  Cook until golden brown (takes my iron exactly 6 minutes).
Serve with whatever toppings you like, and enjoy!
All images and text ©Desserts with Benefits.
.
Here is the recipe's nutrition label:
These 90-calorie Crescent Waffles are totally guilt-free and so, so easy to make.  You'd never know they're low calorie, low fat, diary free, and vegan, with zero added sugar!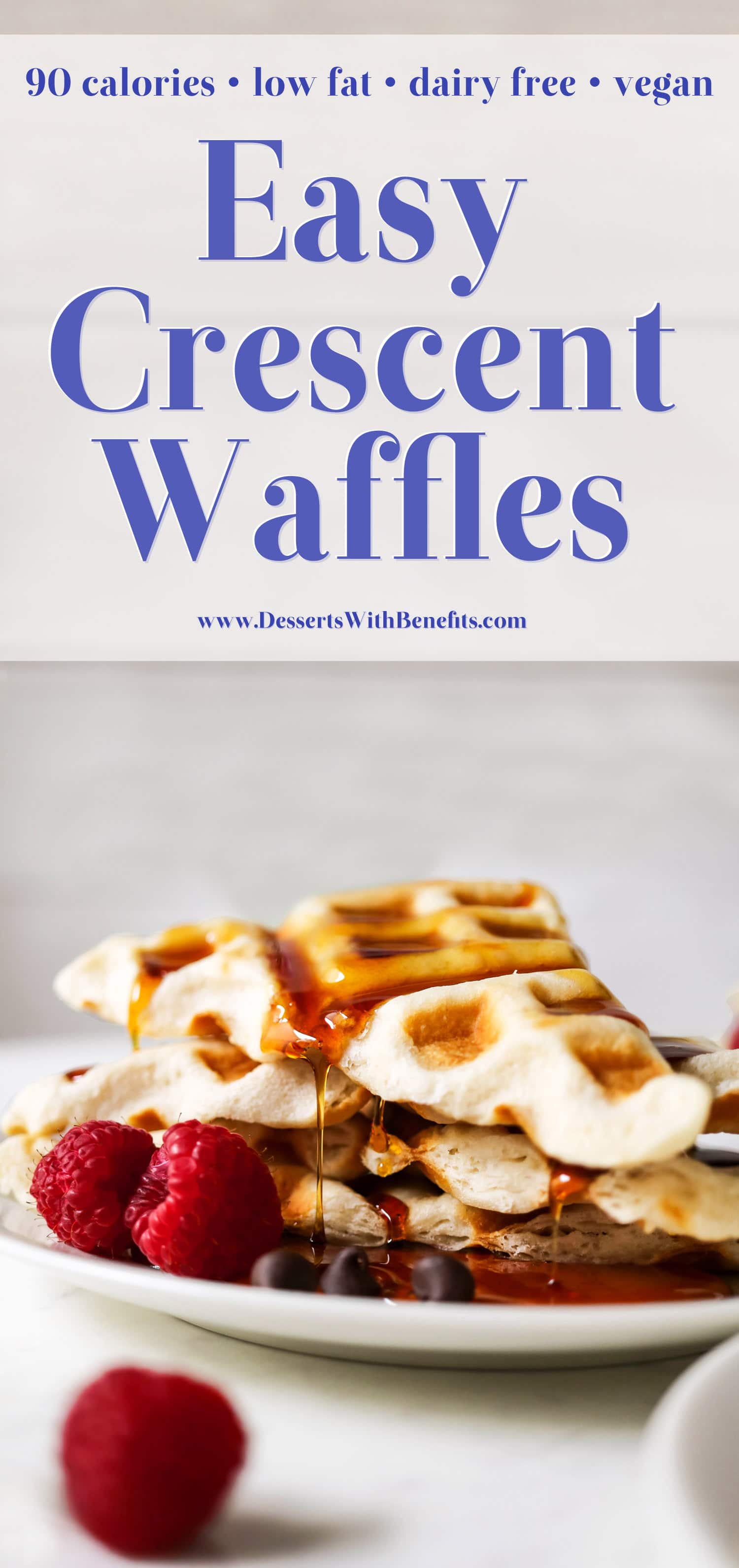 Enjoy!
.
With love and good eats,
.
– Jess
.
Get more stuff like this
Subscribe to our mailing list and get interesting stuff and updates to your email inbox.
Thank you for subscribing.
Something went wrong.