Feb 8, 2018
These Healthy Strawberry Shortcake Krispy Treats are so crispy, chewy, sweet, and satisfying, one bite and you'd NEVER know they're refined sugar free, high protein, and gluten free!  Oh, and there's an option to make them vegan too!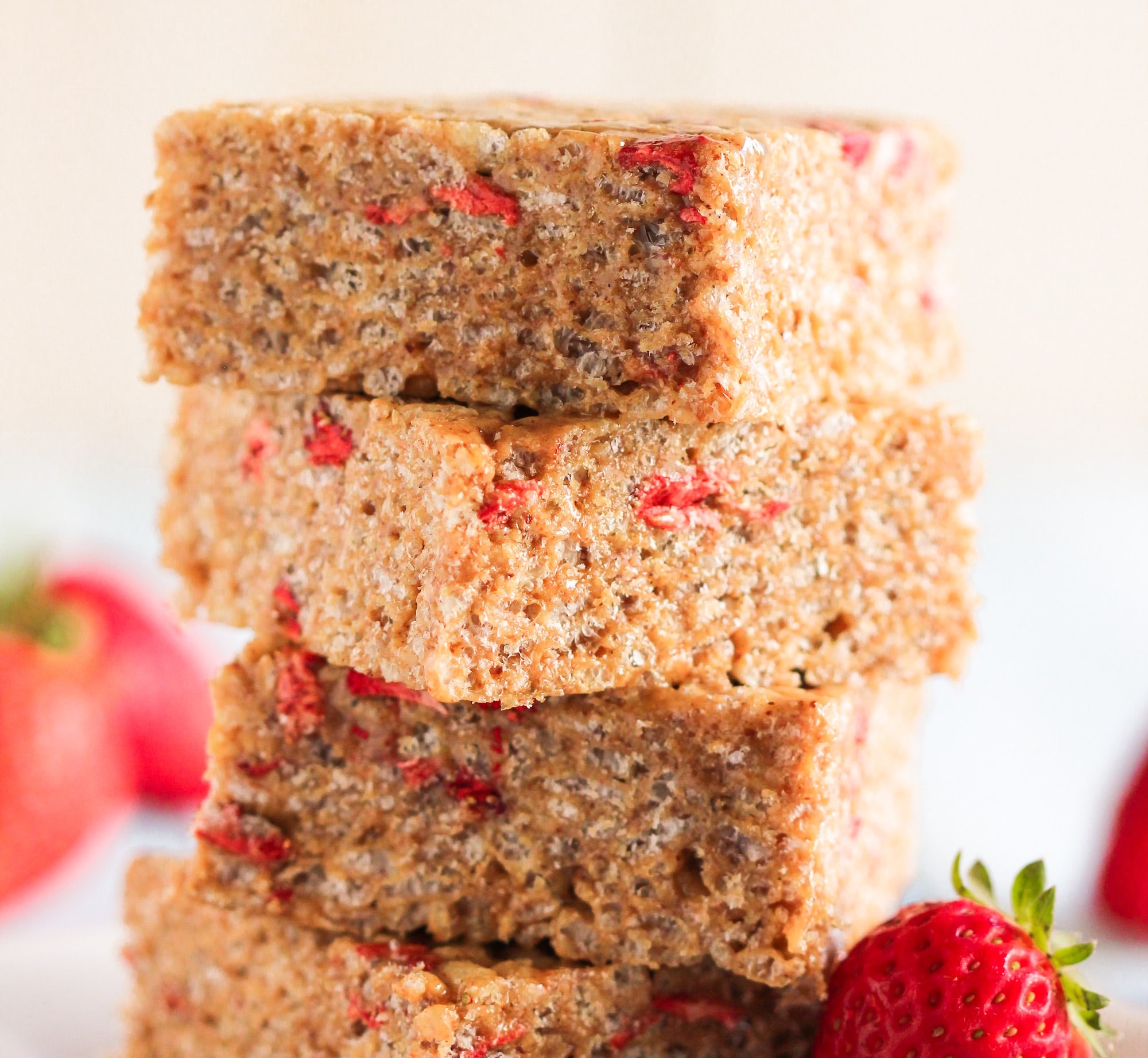 Do I have a slight obsession with Krispy Treats?
Maybe YES.
I've been making them for years, and among friends and family, they are always my most requested desserts (especially my Peanut Butter and Chocolate Krispy Treats).  It's because they taste so damn decadent and unhealthy, yet they're made with all natural, wholesome, quality ingredients.
Like these Strawberry Shortcake Krispy Treats, for example.

While I've made Krispy Treats with marshmallows (homemade marshmallows, of course!) before, these Strawberry Shortcake Krispy Treats are made with a base of rich almond butter and sweet honey.
For a little oomph of flavor, I added natural strawberry extract and vanilla paste (I used homemade vanilla paste, but you can use storebought as well).
Finally, for pretty flecks of color and bursts of flavor, I mixed in a big handful of freeze-dried strawberries.  Freeze-dried strawberries are a GAME CHANGER!  They add so much flavor without the water content so you can have crispy krispy treats, not soggy treats.

One bite of these Strawberry Shortcake Krispy Treats and you'll be amazed at how good they are.  They're sweet, packed with strawberry flavor, and have the perfect amount of crunch.  I couldn't keep them to myself, I had to share the love.  I sent some to my parents and brought some more to a little blogger meetup at a local coffee shop (aka, my taste-testing guinea pigs).  Everybody loved them!
My dad brought a few to work and texted me this:
Heck yeah!!
(Yes, those are pictures of our adorable doggo, Jax.  Pretty sure 90% of our texts revolve around our dogs…)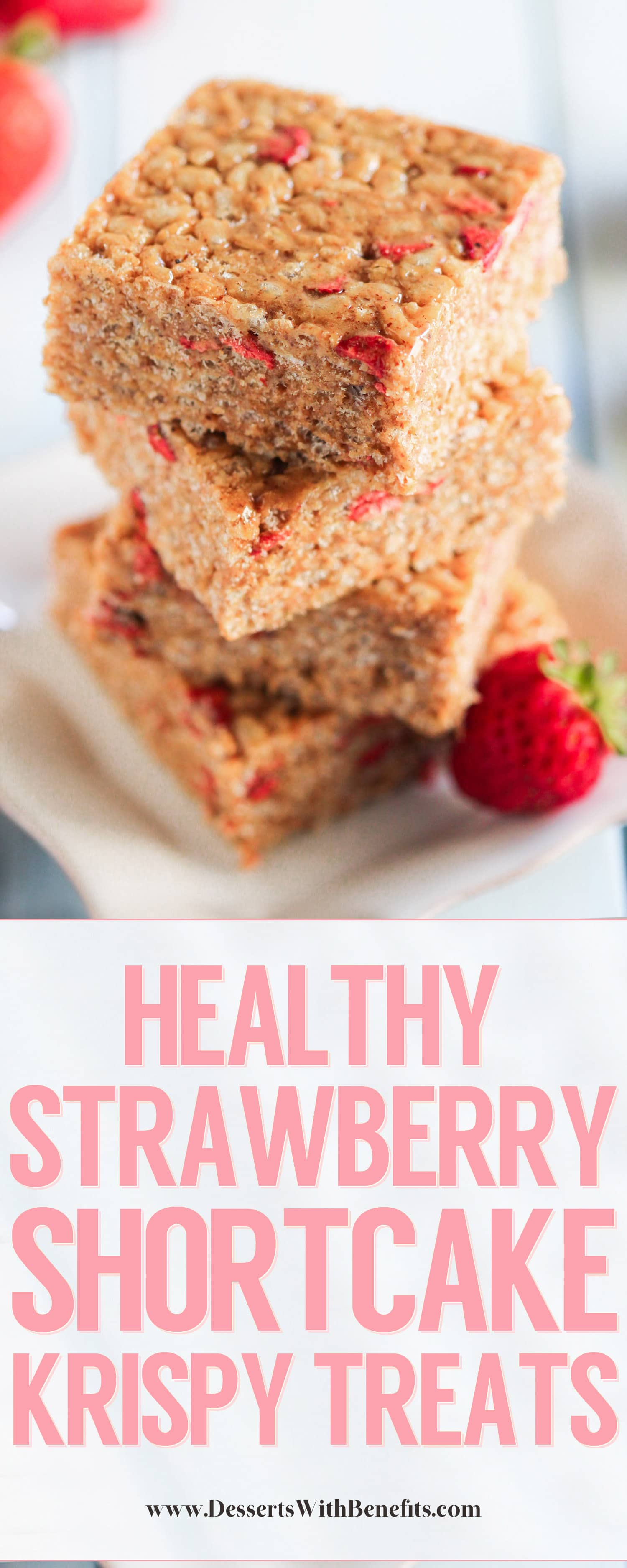 Healthy Strawberry Shortcake Krispy Treats
Prep Time: 20 minutes
Cook Time: 0 minutes
Total Time: 20 minutes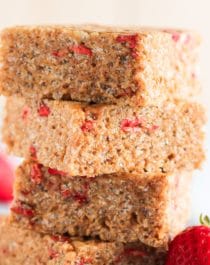 Fat per serving: 4
Calories per serving: 130
Ingredients:
Directions:
Line an 8×8″ brownie pan with parchment paper both ways.
In a large bowl, add the crispy rice cereal.
In another large bowl, stir together the honey, almond butter, vanilla paste, stevia extract, strawberry flavor, and salt.
Stir in the protein powder.
Dump in the rice cereal and freeze-dried strawberries and fold together until the mixture is even.  Scoop the mixture into the prepared brownie pan and flatten it out with a spatula. Cover and refrigerate overnight (or at least a few hours), then slice and serve!
Notes:
To make these vegan, use brown rice syrup in place of the honey and omit the protein powder.


All images and text ©Desserts with Benefits.
Chomp.
Delish.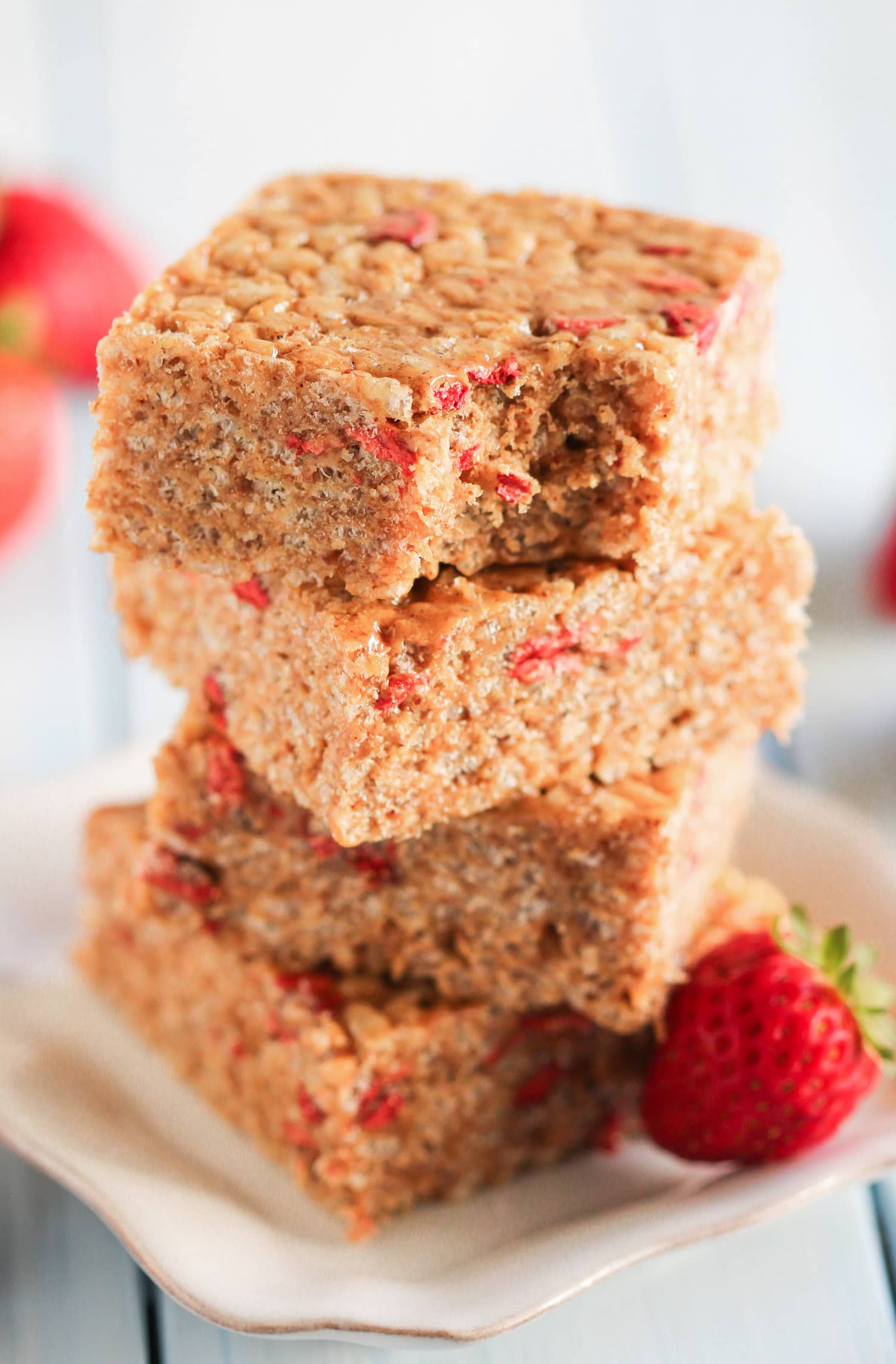 Enjoy!
.
With love and good eats,
.
– Jess
.
Get more stuff like this
Subscribe to our mailing list and get interesting stuff and updates to your email inbox.
Thank you for subscribing.
Something went wrong.