Feb 1, 2018
Happy February!  Let's celebrate with these adorable, pink Healthy Raspberry French Macarons!
They're sweet, addicting, and packed with raspberry flavor, you'd never know they're made without the bleached white sugar, artificial flavorings, and artificial food dyes.  Yup, these macarons are all natural, low fat, and gluten free too.  PERFECT for Valentine's Day, birthdays, gifting, and more!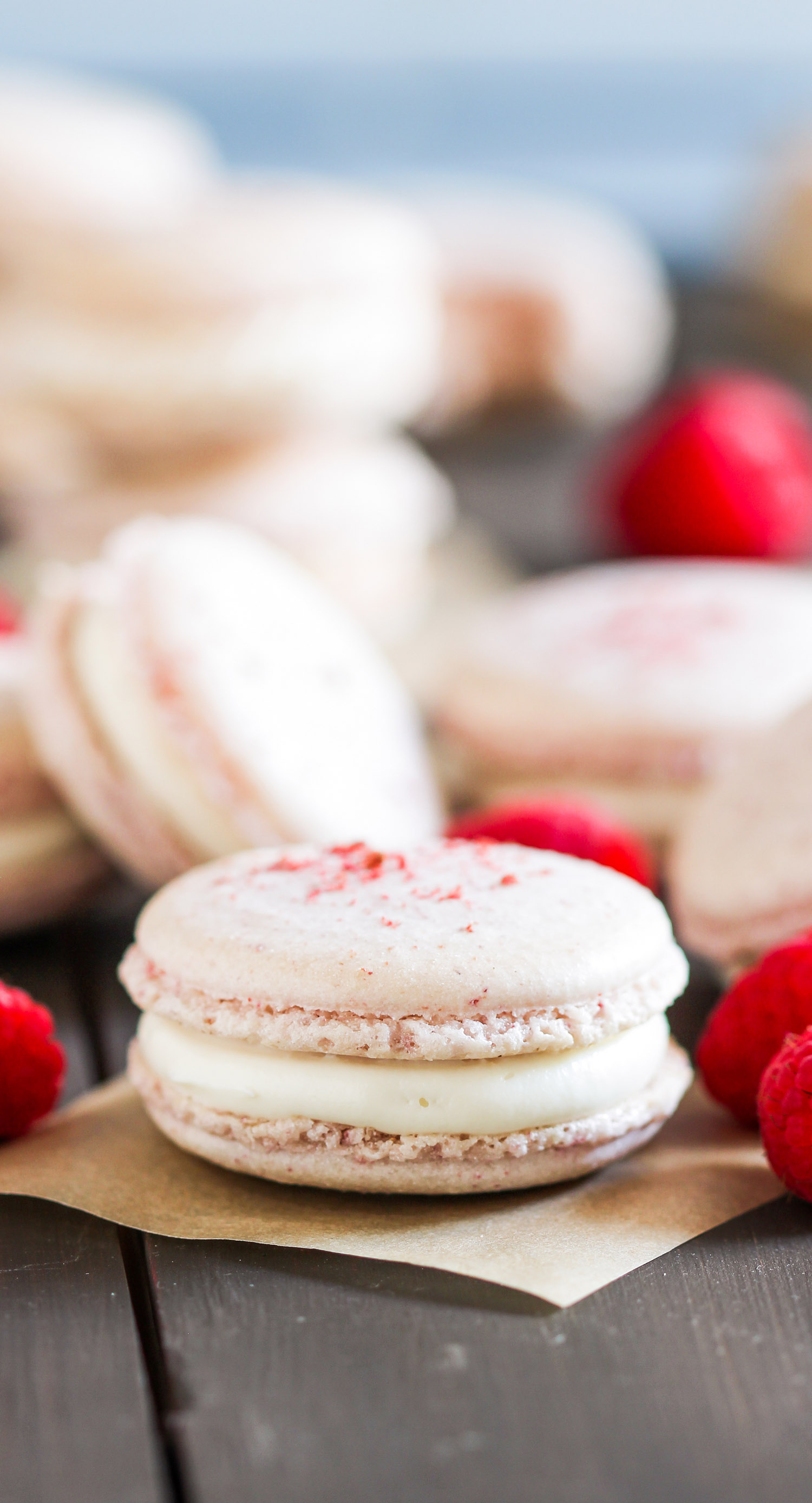 Les be real.
Whether you're single or taken for this Valentine's Day, you're gonna fall in love with these sweet, pink, and delicate Raspberry French Macarons.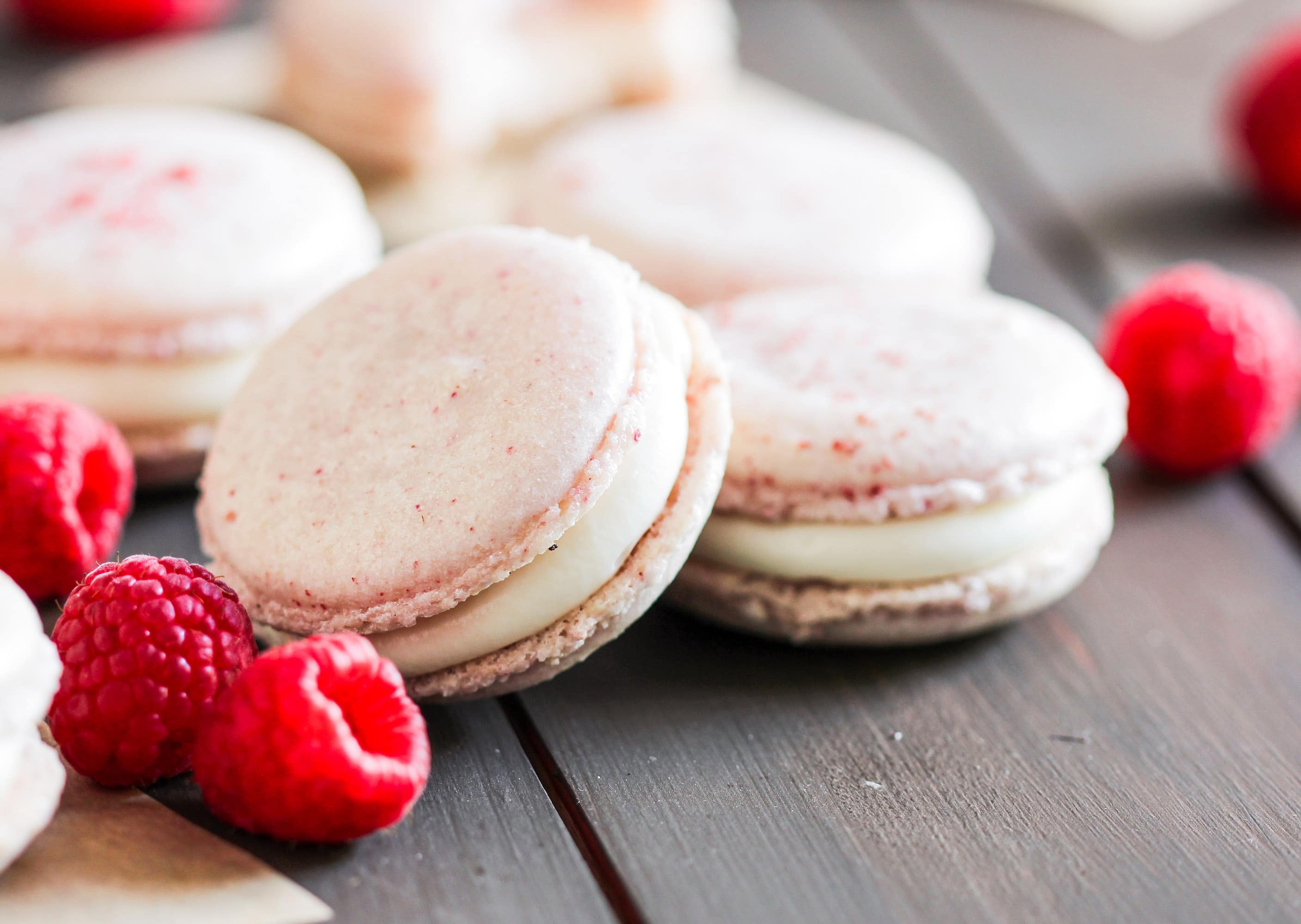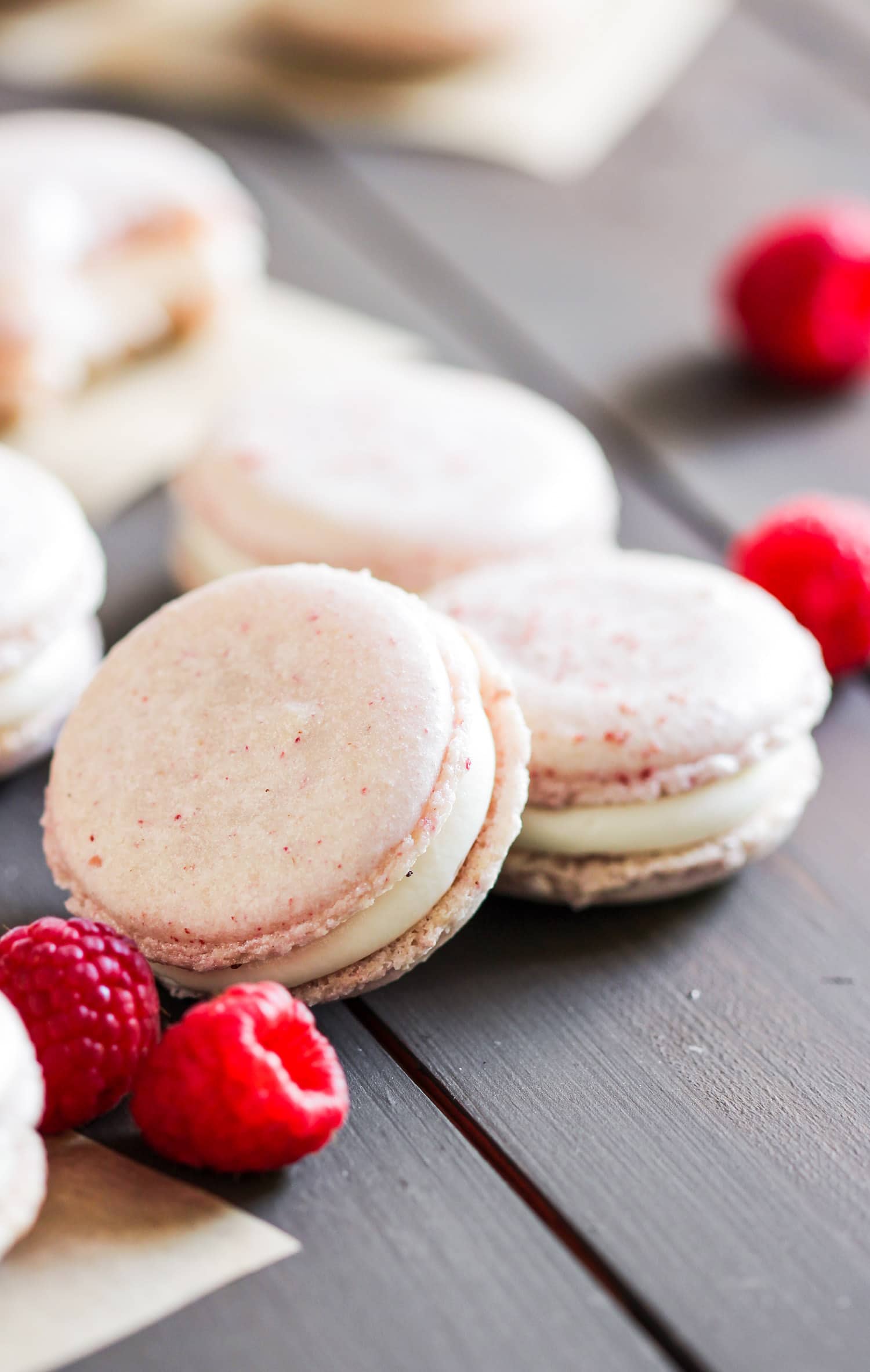 How could you not with these beauties???
These are HEAVEN.
Y'all…  just y'all.
You need these.

You can fill these Healthy Raspberry French Macarons with whatever frosting you like, but I chose to fill 'em with Cream Cheese Frosting.  Because Cream Cheese Frosting is the BEEESSSTTT.
The bold, richness of the cream cheese complemented the super sweet, raspberry-flavored macaron shells perfectly.  Seriously.  There's no other word for it.  Every bite was utter perfection.
If you decide to fill your Raspberry French Macarons with Cream Cheese Frosting too, you are so my people  ?

Healthy Raspberry French Macarons
Prep Time: 30 minutes
Cook Time: 8 minutes
Total Time: 1 hour 30 minutes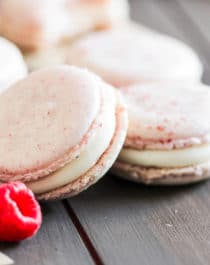 Fat per serving: 2.5
Calories per serving: 75
Ingredients:
Directions:
Line 3 cookie sheets with silicone baking mats or parchment paper. Prepare a piping bag with round tip (#804).
In a small bowl, add the powdered evaporated cane juice, almond meal, and freeze-dried raspberry powder. Set aside.
In an electric stand mixer bowl fitted with a whisk attachment, add the egg whites and salt. Turn the stand mixer on high speed and start a timer.
Slowly sprinkle in the 50g of evaporated cane juice.  Whip this mixture for 5 minutes. Mixture should form stiff peaks.
Add the raspberry flavor and whip for 2 more minutes.
Sift the dry ingredients into the stand mixer and discard the raspberry seeds.  Fold the batter by hand with a silicone spatula until everything is fully incorporated. Do not under mix and do not over mix! Mixture should be in between "plopping" off the spatula and "flowing" like a thick ribbon.
Scoop the batter into the prepared piping bag and pipe 1" buttons onto the prepared cookie sheets, each about 2" apart.  Tap the pans on the counter HARD a few times to deflate any air pockets.
Preheat the oven to 350 degrees Fahrenheit. Let the piped macarons sit at room temperature for ~45 minutes. Shells should form on the surface of the macarons (when you can tap the surface, they shouldn't stick to your finger at all). Bake one tray at a time for ~7-8 minutes, or until the fluffy "feet" form and the surfaces of the macarons are dry and firm when lightly tapped (they go from perfect to slightly browned in less than a minute, so keep those eyes peeled!). Let cool completely on the cookie sheets.
Pipe your frosting of choice onto half of the macaron shells, then sandwich the remaining shells on top. Serve immediately.
Notes:
Enjoy!
.
With love and good eats,
.
– Jess
.
Source link
Get more stuff like this
Subscribe to our mailing list and get interesting stuff and updates to your email inbox.
Thank you for subscribing.
Something went wrong.