Mar 23, 2018
Just when you thought Banana Bread couldn't get any better, THIS comes along:  Marbled Chocolate Banana Bread!  Made healthy, sugar free, high protein, high fiber, gluten free, and dairy free, but one bite and you'd never suspect any of that.  This loaf is so moist and rich, sweet and decadent, and fluffy and flavorful, it tastes like it's full of butter, sugar, and calories.
I guess what I'm trying to say is, this Chocolate Banana Bread is what dreams are made of.  And those dreams came true.  It's heaven.  It's legendary.  It's perfection.
I could keep going, but I'll stop there.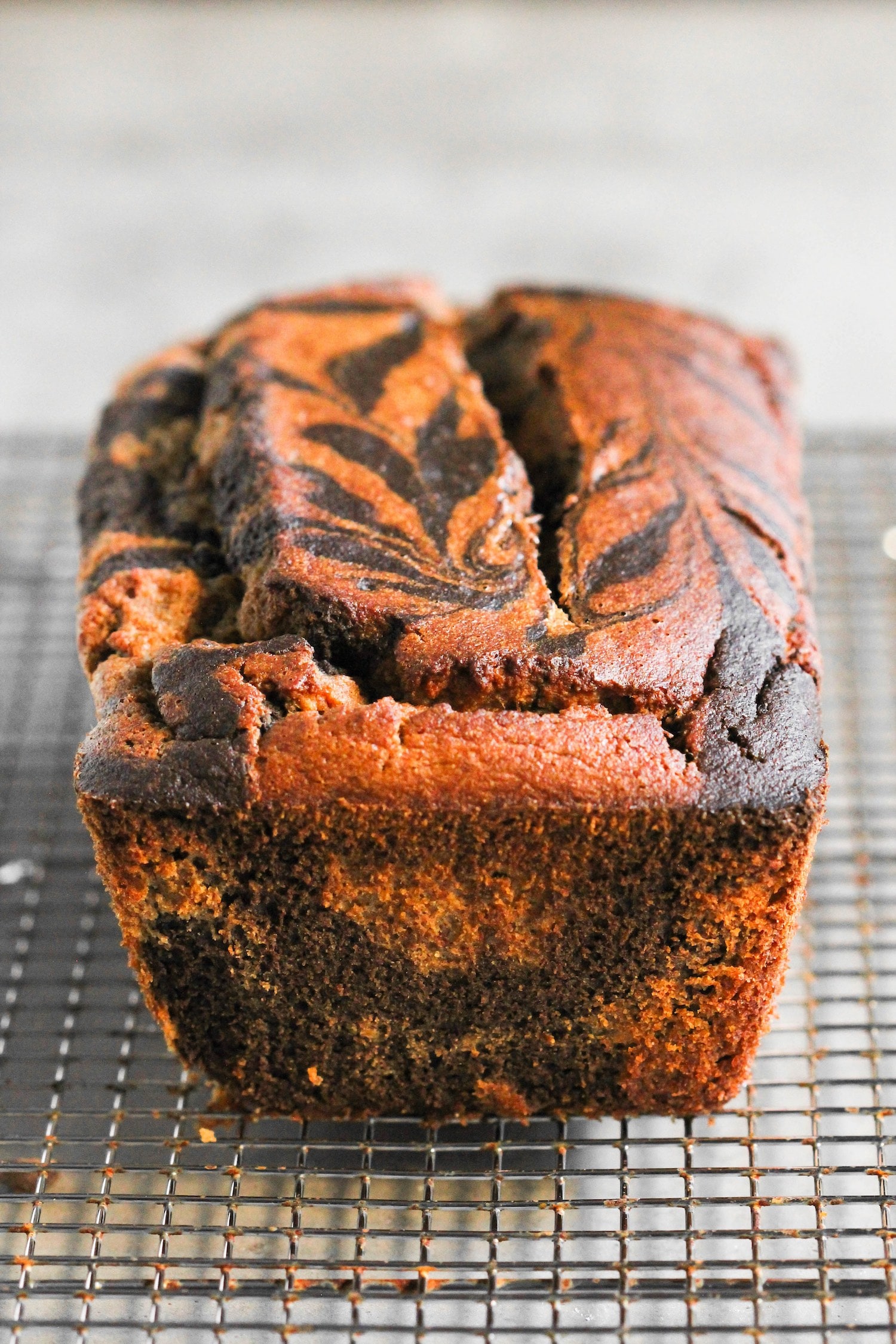 If you were wondering what the inside of this Marbled Chocolate Banana Bread looks like, it's this:

And if you were wondering what this Marbled Chocolate Banana Bread tastes like, it's heaven.


This deliciously moist, fluffy, and tender Chocolate Banana Bread is perfect for Banana Bread lovers and Chocolate Cake lovers alike.
With beautiful swirls of chocolate throughout, this recipe might look like it'd be difficult to make, but it's actually super easy!  You just reserve a portion of the batter, whisk in cocoa powder, scoop the chocolate batter into the pan on top of the regular batter, then use a knife to swirl the two batters together.
Looks fancy schmancy, too.  It's the perfect way to start your day or end your day — you can serve it for dessert at a party and impress everyone, but you can also warm it up for breakfast with a side of coffee and just impress yourself  ?
Upgrade your regular Banana Bread and make this chocolate-swirled version.
Top a slice with a pat of butter, freshly sliced bananas, a drizzle of melted chocolate, a sprinkle of mini chocolate chips, a spoonful of Healthy Nutella, or serve it all on its own — no matter what you choose, it's gonna be delicious!
Healthy Marbled Chocolate Banana Bread
Prep Time: 25 minutes
Cook Time: 1 hour 20 minutes
Total Time: 1 hour 45 minutes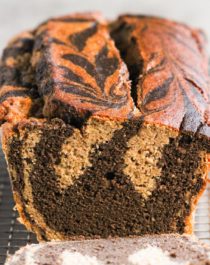 Fat per serving: 9.7
Calories per serving: 230
Ingredients:
136g (1 cup) Sweet White Sorghum Flour
120g (1 cup) Oat Flour
96g (½ cup) Granulated Erythritol
4 tsp Double-Acting Baking Powder
1 tbs Ground Cinnamon
¼ tsp Salt
1⅓ cups Unsweetened Vanilla Almond Milk
350g (1¼ cups) Mashed Bananas, super ripe
128g (½ cup) Roasted Almond Butter
3 Large Eggs
1 tbs Vanilla Extract
1½ tsp Stevia Extract
15g (3 tbs) Unsweetened Dark Cocoa Powder
Directions:
Preheat the oven to 350 degrees Fahrenheit.  Spray a 9×5" loaf pan with cooking spray and line one way with parchment paper for easy removal later.
In a medium-sized bowl, whisk together the sorghum flour, oat flour, erythritol, baking powder, cinnamon and salt.
In an electric stand mixer bowl fitted with a whisk attachment, add the almond milk, mashed bananas, nut butter, eggs, vanilla extract and stevia extract.  Mix on low speed.
Add the dry ingredients to the stand mixer and increase the mixer speed to medium.  Mix until the ingredients are fully incorporated.  Scrape down the sides of the bowl if necessary.
Pour half of the batter into another bowl.  Whisk the cocoa powder into one bowl.
Alternate scooping each batter into the prepared loaf pan, and use a knife to swirl the two in order to create the marbled effect.  Bake for ~1 hour + 20 minutes, or until the surface forms a light crust and springs back when tapped.
Let cool in the pan for 1 hour, then transfer the loaf to a wire cooling rack to cool completely.  Slice and serve, or store in a tightly sealed container in the fridge for up to 4 days.
Notes:


All images and text ©Desserts with Benefits.
.
Here is the recipe's nutrition label:
Take Banana Bread to the next level with this Marbled Chocolate Banana Bread!
Is this NOT the dreamiest, fluffiest, sweetest thang your eyes ever did see?!?  ?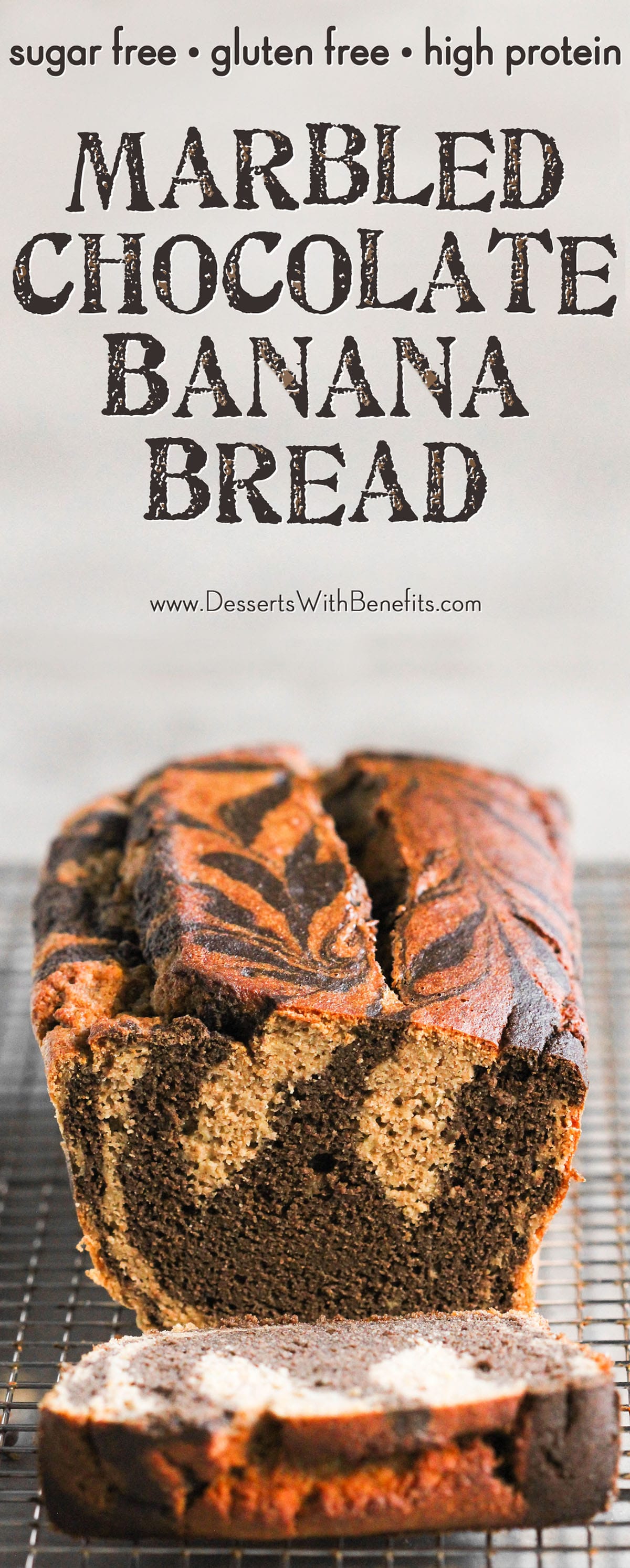 Enjoy!
.
With love and good eats,
.
– Jess
.
Get more stuff like this
Subscribe to our mailing list and get interesting stuff and updates to your email inbox.
Thank you for subscribing.
Something went wrong.