Feb 24, 2018
These Healthy Lemon Ricotta Buttermilk Pancakes are SO fluffy and cakey and sweet and delicious, it's hard to believe that with every bite you take, you're indulging in sugar free, high protein, gluten free, and guilt free goodness!
But seriously now, these are probably the fluffiest pancakes I have ever made.  Like, in my entire life.
And I've made a lot of pancakes in my day…  Banana Pancakes, Funfetti Pancakes, Red Velvet Pancakes, Peanut Butter Pancakes, Pumpkin Pancakes…  pancakes fo' life y'all.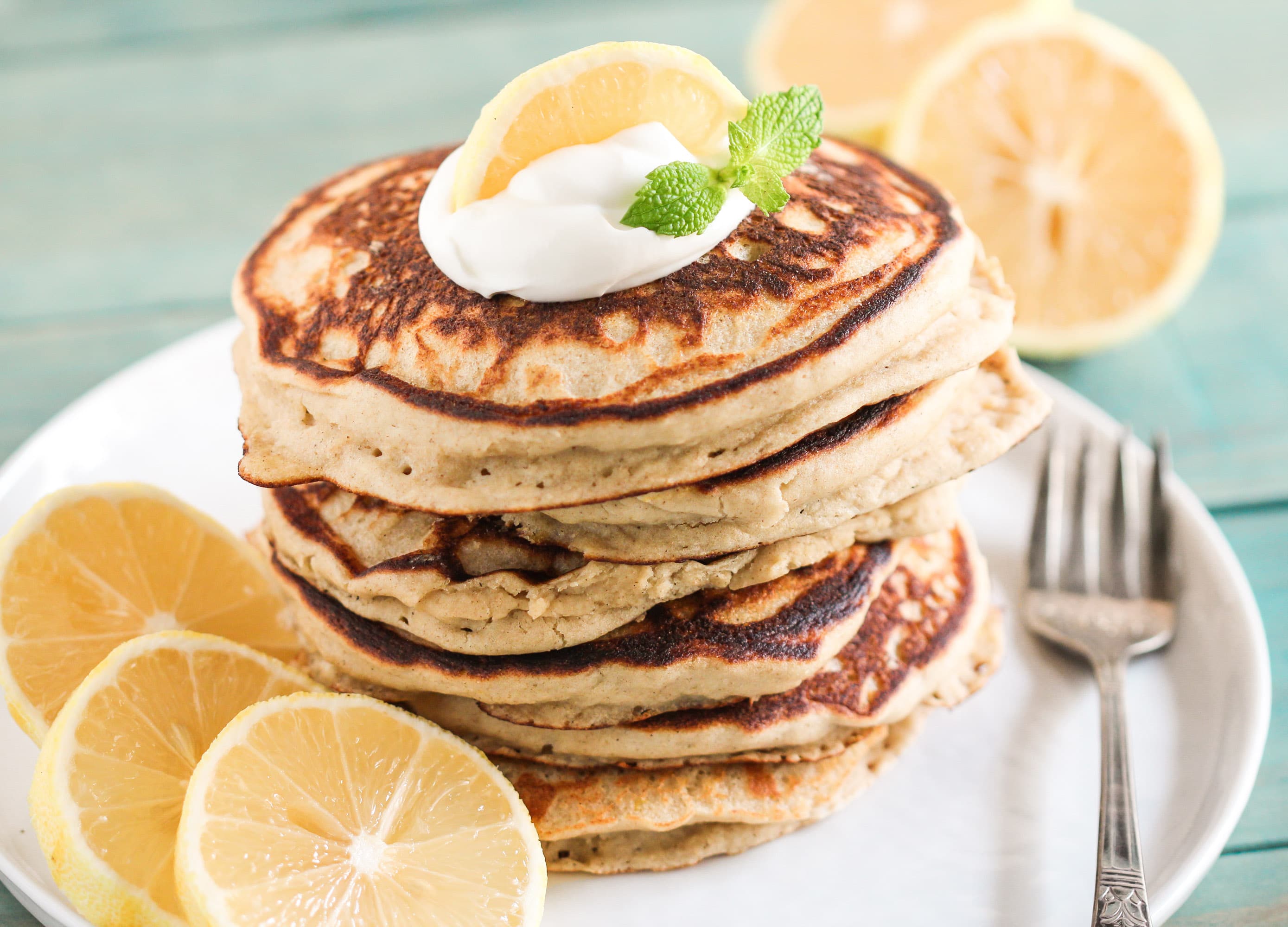 The fluffy factor makes it easy to dig into a stack of these Healthy Lemon Ricotta Buttermilk Pancakes.
And since they're high in protein and fiber and contain healthy fats, they're super filling too.  These will keep you full for hours (unlike typical pancakes, which are made with a ton of white sugar and refined flour).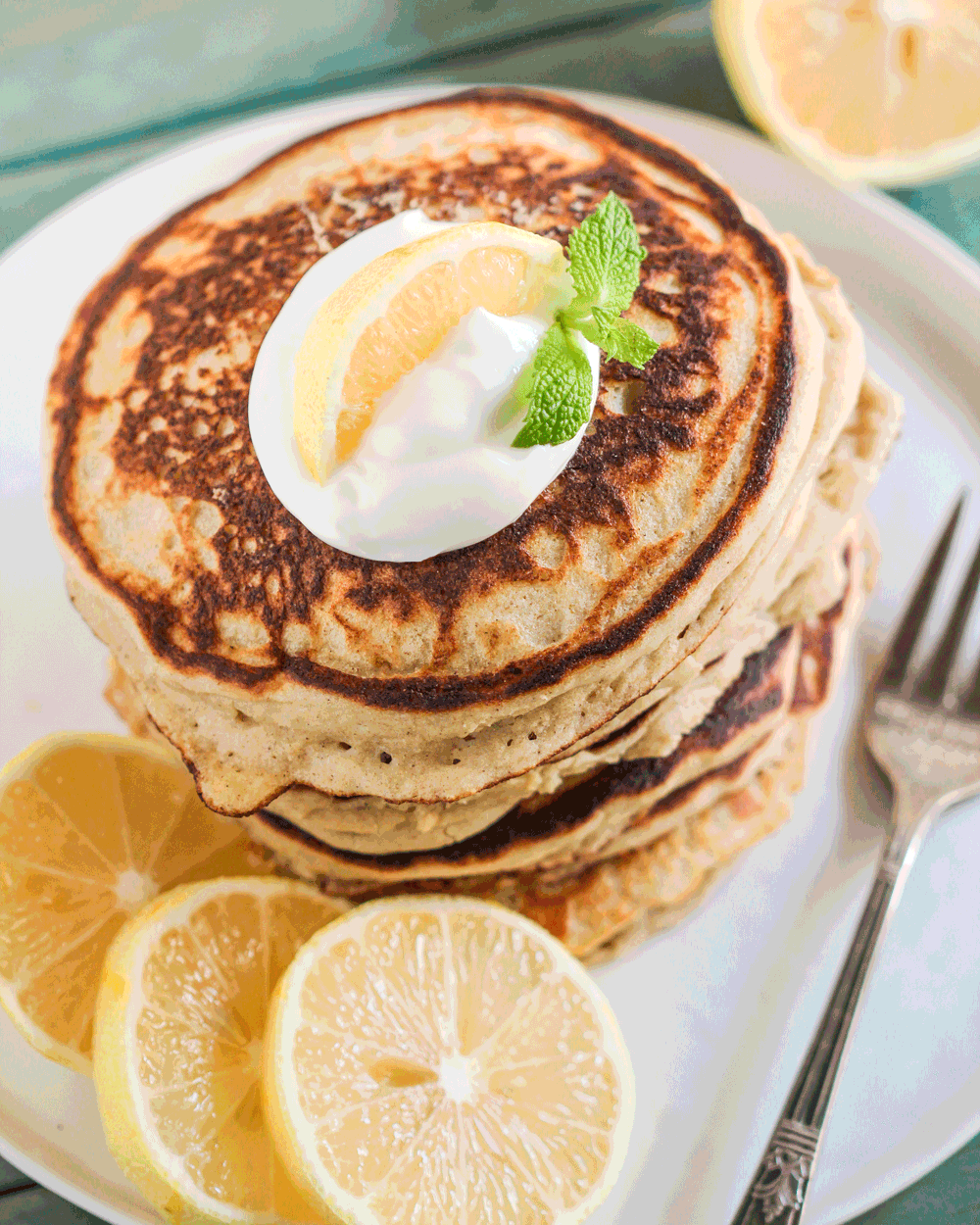 When I made these pancakes I actually wasn't even planning on making them.  I had my eye on a Lemon Ricotta Pound Cake recipe that I found and was trying to healthify.  The recipe called for 4 eggs and I only had 2, so I searched online for something else I could make with lemons and ricotta.
Pancakes appeared and it was a done deal.  PANCAKES IT IS.
I adapted these Healthy Lemon Ricotta Buttermilk Pancakes from Eating Well's Blueberry Ricotta Pancakes.  I provided my ingredient swaps below so you can see my thought process on altering the recipe to be sugar free, gluten free, and way healthier overall:
Replaced Whole Wheat Pastry Flour with Sweet White Sorghum Flour
Replaced All Purpose Flour with Oat Flour
Replaced 1 tsp Sugar with 4 packets Natural Sweetener (I used Truvia)
Omitted 1 tbs Lemon Juice
Omitted ¾ cup Blueberries and ½ tsp Nutmeg (I just don't like the flavor)
Added 1 tsp Vanilla Extract and a pinch of Salt
Used Low Fat Buttermilk instead of Nonfat
Used Avocado Oil Cooking Spray instead of 2 tsp Canola Oil

Healthy Lemon Ricotta Buttermilk Pancakes
Prep Time: 15 minutes
Cook Time: 20 minutes
Total Time: 35 minutes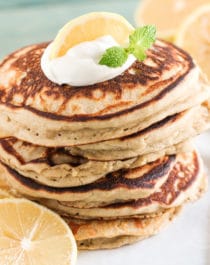 Fat per serving: 6.5g
Calories per serving: 200
Ingredients:
68g (½ cup) Sweet White Sorghum Flour
45g (6 tbs) Oat Flour
1 tsp Double Acting Baking Powder
¼ tsp Baking Soda
pinch of Salt
165g (¾ cup) Part Skim Ricotta Cheese
½ cup Low Fat Buttermilk
1 Large Egg
1 Large Egg White
1 tsp Lemon Zest
1 tsp Vanilla Extract
Directions:
Spray a nonstick griddle with cooking spray and place over medium heat.
In a small bowl, whisk together the sorghum flour, oat flour, sweetener, baking powder, baking soda, and salt.
In a large bowl, whisk together the ricotta, buttermilk, egg, egg white, lemon zest, and vanilla extract.  Dump the dry ingredients into the wet ingredients and whisk together until completely combined.
Scoop the batter onto the griddle and cook until bubbles appear on the surface of the pancake and the edges appear dry.  Flip and cook the other side. Continue this until all the batter is used up.  Serve immediately with natural whipped cream, ricotta, yogurt, some pure maple syrup, and/or a side of fruit!
Recipe adapted from Eating Well.
All images and text ©Desserts with Benefits.
.
Here is the recipe's nutrition label:
Now THAT'S a balanced breakfast!
Are you jealous of my forkful of these delicious fluffy pancakes?  Becaaaause you should be  ?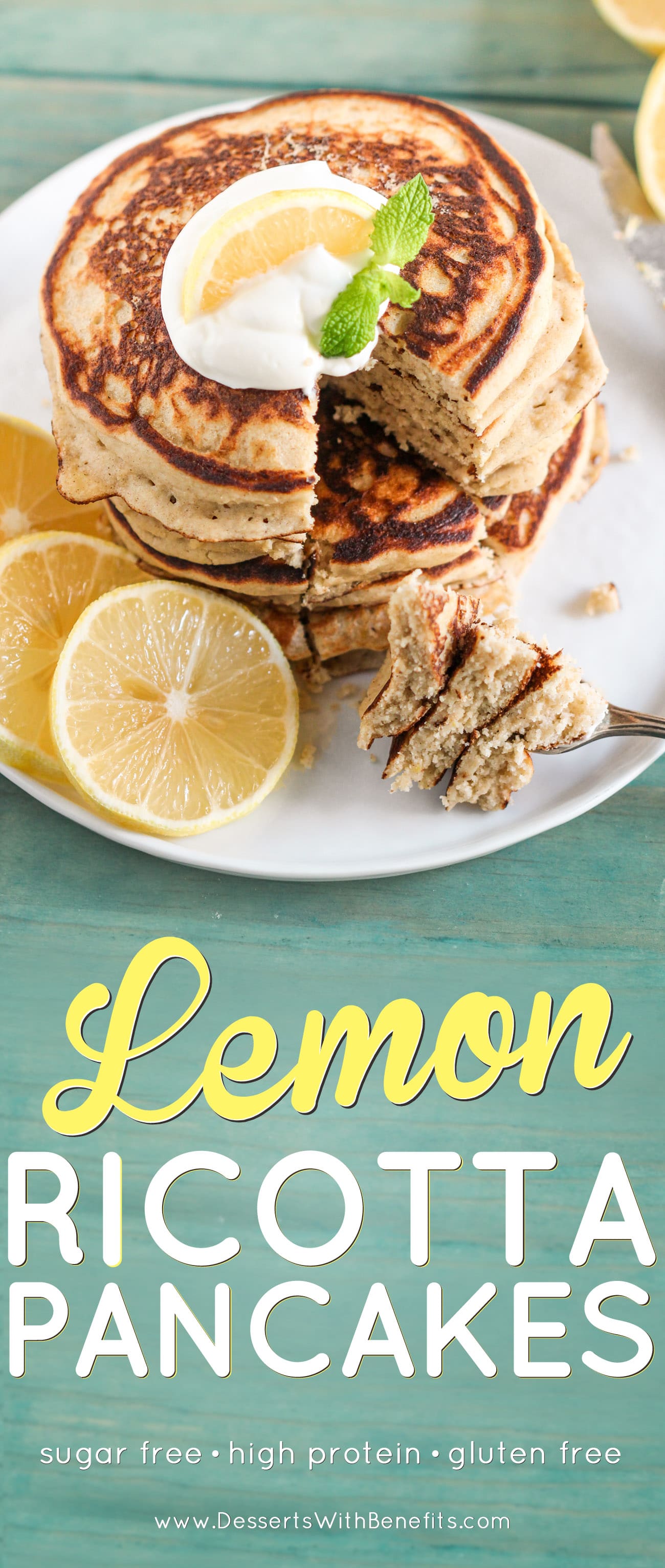 Enjoy!
.
With love and good eats,
.
– Jess
.
Get more stuff like this
Subscribe to our mailing list and get interesting stuff and updates to your email inbox.
Thank you for subscribing.
Something went wrong.