Apr 11, 2018
These Cheesecake Swirl Brownies are THE fudgiest, most dense, and chocolatey brownies that will ever meet your face…  oh, and they're gluten free, sugar free, high fiber, and high protein too!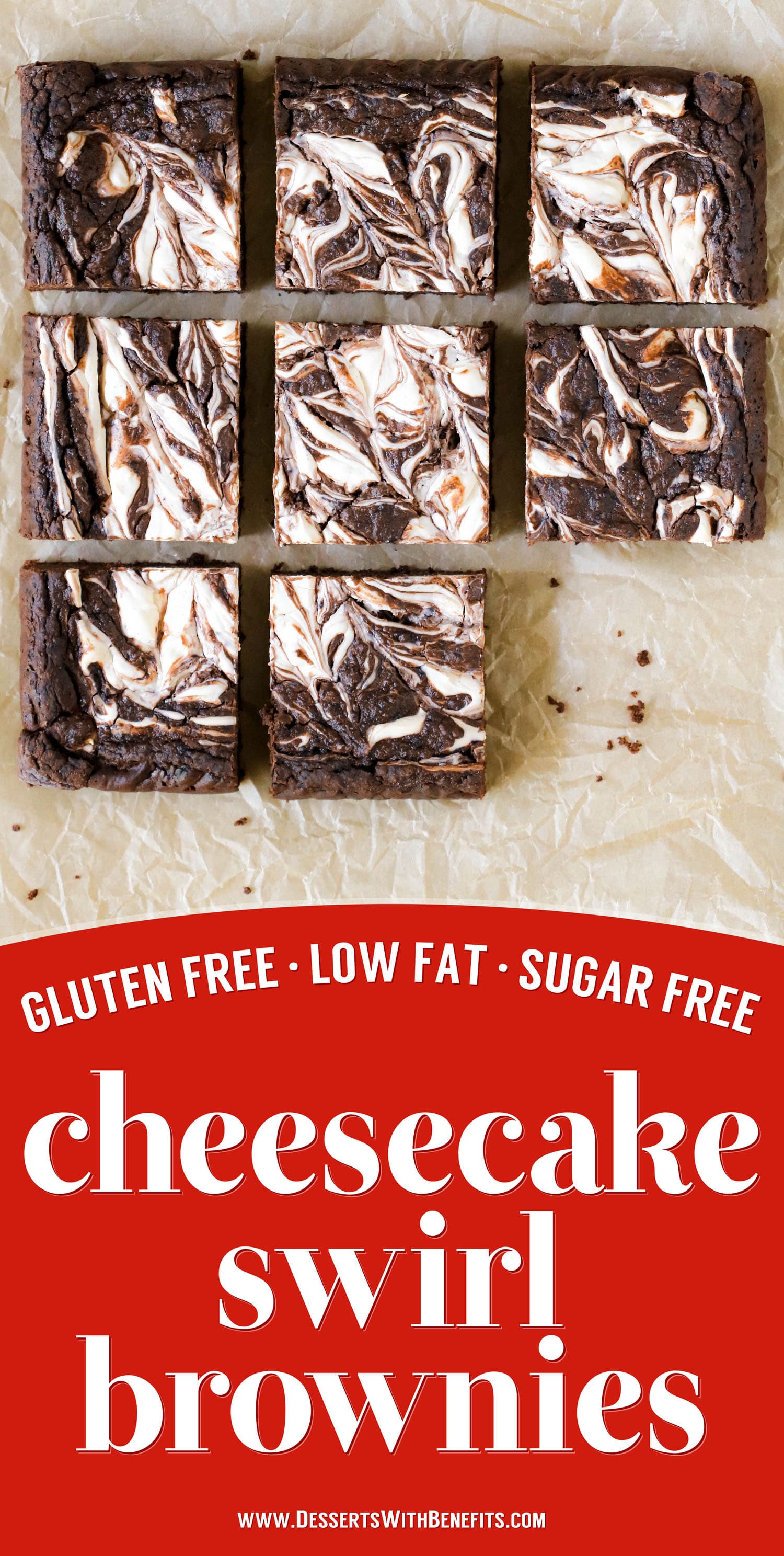 Can I tell you something?  These fudgy squares of goodness are made with a secret ingredient.  But don't worry, you'd never know it's there…  these are the best. brownies. ever.
BECAUSE THEY'RE SWIRLED WITH CHEESECAKE.
I'm dying.
I'm dying.
I'm dead.

These are seriously delicious.  I finished the entire batch in two days.  Like, I had these brownies for dessert (obviously), midday snacks, midmorning snacks, aaaaand breakfast.  Yes, breakfast.
When I told my friend I ate brownies for breakfast, she thought I was insane.  But that's because she doesn't have a sweet tooth like me us  ?
Most people can't handle such decadence in the morning, but I sure can.  When I was younger I used to eat chocolate bars on my way to school, so I'm used to it I guess.
I mean, brownies for breakfast??  HELL YES.  WHO'S WITH ME?!

Healthy Cheesecake Swirl Brownies
Prep Time: 25 minutes
Cook Time: 45 minutes
Total Time: 1 hour 10 minutes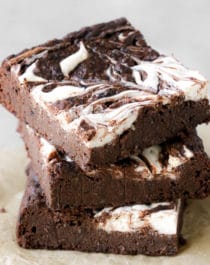 Fat per serving: 6
Calories per serving: 140
Ingredients:
Brownies:
(260g) one 15.5oz can Black Beans
175g (~1¼ cups) Fresh Blueberries
⅓ cup Brewed Coffee, cooled to room temp
1 tbs Vanilla Extract
1 tsp Stevia Extract
96g (½ cup) Granulated Erythritol
60g (¾ cup) Unsweetened Natural Cocoa Powder
34g (¼ cup) Sweet White Sorghum Flour
28g (¼ cup) Ground Flaxseed
1½ tsp Double Acting Baking Powder
¼ tsp Baking Soda
¼ tsp Salt
Swirl:
6oz Neufchatel Cream Cheese, room temp (or ⅓ Less Fat Cream Cheese)
½ tsp Stevia Extract
¼ tsp Vanilla Paste (I used homemade!)
Directions:
Preheat your oven to 350 degrees Fahrenheit and line an 8×8" brownie pan with parchment paper.
Drain the can of black beans and pour the beans into a sieve.  Rinse well and drain off the excess water.
In a blender (I used my NutriBullet), add the black beans, blueberries, coffee, vanilla extract, and stevia extract.  Purée until completely smooth.
In a large bowl, whisk together the erythritol, cocoa powder, sorghum flour, flaxseed, baking powder, baking soda, and salt.
For the Cheesecake Swirl-  In a small bowl, whisk together the cream cheese, stevia extract, and vanilla paste.
Pour the blender mixture (scrape out as much as you can!) into the bowl with the dry ingredients and mix until completely even.  Scoop the mixture into the prepared pan and spread it out.  Scoop spoonfuls of the cheesecake swirl over the batter and swirl in with a butter knife.
Bake for ~43 minutes.  Let cool completely, then cover and refrigerate overnight.  Slice into 9 squares.  Serve and enjoy! Store in a tightly sealed container in the fridge for up to 4 days.


All images and text ©Desserts with Benefits.
Feel free to mix in ½ cup of No-Sugar-Added Chocolate Chips for some extra chocolate goodness and texture!
.
Here is the recipe's nutrition label:
Awwww yeahhhh, only 140 calories and 6g of fat per brownie.  Plus, 7g of fiber, 5g of protein, and zero added sugar!

When you're craving Cheesecake but also want some brownies, you make these fudgy, swirly Cream Cheese Brownies!
Enjoy  ?
.
– Jess
.
Get more stuff like this
Subscribe to our mailing list and get interesting stuff and updates to your email inbox.
Thank you for subscribing.
Something went wrong.