Mar 28, 2018
This Healthy Cake Batter Nut Butter is where cake batter meets nut butter — it's deliciously sweet and buttery, yet dense, thick, and spreadable.
It's hard to believe this easy, 5-ingredient recipe is sugar free, low carb, gluten free, dairy free, and vegan!  My fellow cake batter lovers, this nut butter is so good you'll wonder how you could have ever survived without it.

This Healthy Cake Batter Nut Butter magically tastes like Vanilla Cake but in a spreadable form.  You'd never know this is sugar free, low carb, gluten free, dairy free, and vegan!
Spread this cake batter goodness on toast, pancakes, waffles, etc.
Add it to smoothies and milkshakes.
Top your oatmeal or yogurt with it.
And what the heck, eat it straight up.
Whatever you do, just spread it on THICK  ?

Healthy Cake Batter Nut Butter
Prep Time: 10 minutes
Cook Time: 0 minutes
Total Time: 10 minutes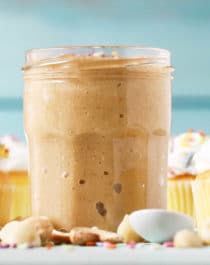 Fat per serving: 16.5
Calories per serving: 180
Ingredients:
Directions:
In a blender or food processor, add all of the ingredients.  Blend until all the ingredients are combined and you get a smooth, buttery spread.
Scoop into serving jars.
Notes:
Make sure to keep Natural Rainbow Sprinkles handy for serving!
Keeps for ~2 months in the fridge
If you want this spreadable straight out of the fridge, add 2 tbs of grapeseed oil (or any other neutral-flavored liquid oil) to the recipe


All images and text ©Desserts with Benefits.
My life has been hella crazy, nerve-wracking and exciting, but also utterly frustrating for me recently.  I had to get a new car and I'm revamping my DIY Protein Bars Cookbook (yay!), but I also have to deal with two horrible companies at the moment.  I did some freelance work with one company, signed a contract and everything, and after I submitted my work and invoice…  crickets.  Payment is past due and no more responses to my emails.  I will not hesitate to get my lawyer involved, I just think it'd be ridiculous for it to get to that point.  And the other company?  Infringing on my trademark.  I trademarked "Desserts With Benefits" back in 2013.  This company began using my trademark on social media, but now they're using it on their product packaging and advertising.  The company owner reached out to me asking if they could use it, I said no, they went ahead and used it anyways.
Why can't people just be decent human beings?  *sigh*
I'm stressed out and all I want is cake.  One BIG ass cake.  But it's starting to get hot and humid out here in Texas and I don't want to go near my oven.  So I made cake in the form of a nut butter instead.
Just like cake, this Cake Batter Nut Butter soothes the stressed, bite by bite.

This Cake Batter Nut Butter seems way too good to be true — it's 100% healthy and delicious, sugar free, low carb, gluten free, dairy free, and vegan, and requires only 5 ingredients to make.
But trust me, my fellow cake batter lovers, this Healthy Cake Batter Nut Butter exists…  no need to pinch yourself.  I hope you enjoy this recipe as much as I did.  Yes, that is past tense.  Because I finished it off already…  EEP!
.
With love and good eats,
.
– Jess
.
Source link
Get more stuff like this
Subscribe to our mailing list and get interesting stuff and updates to your email inbox.
Thank you for subscribing.
Something went wrong.