Mar 9, 2018
This Cake Batter Dip looks and tastes like you tossed a slice of Vanilla Cake into a blender, frosting and all!  It's ultra buttery and sweet, rich and flavorful, and smooth and creamy.  One bite and you'd never guess it's healthy, sugar free, low fat, high protein, and gluten free too.  Serve up this deliciousness alongside some Graham Crackers, Animal Crackers, fresh strawberries, or spoons alone.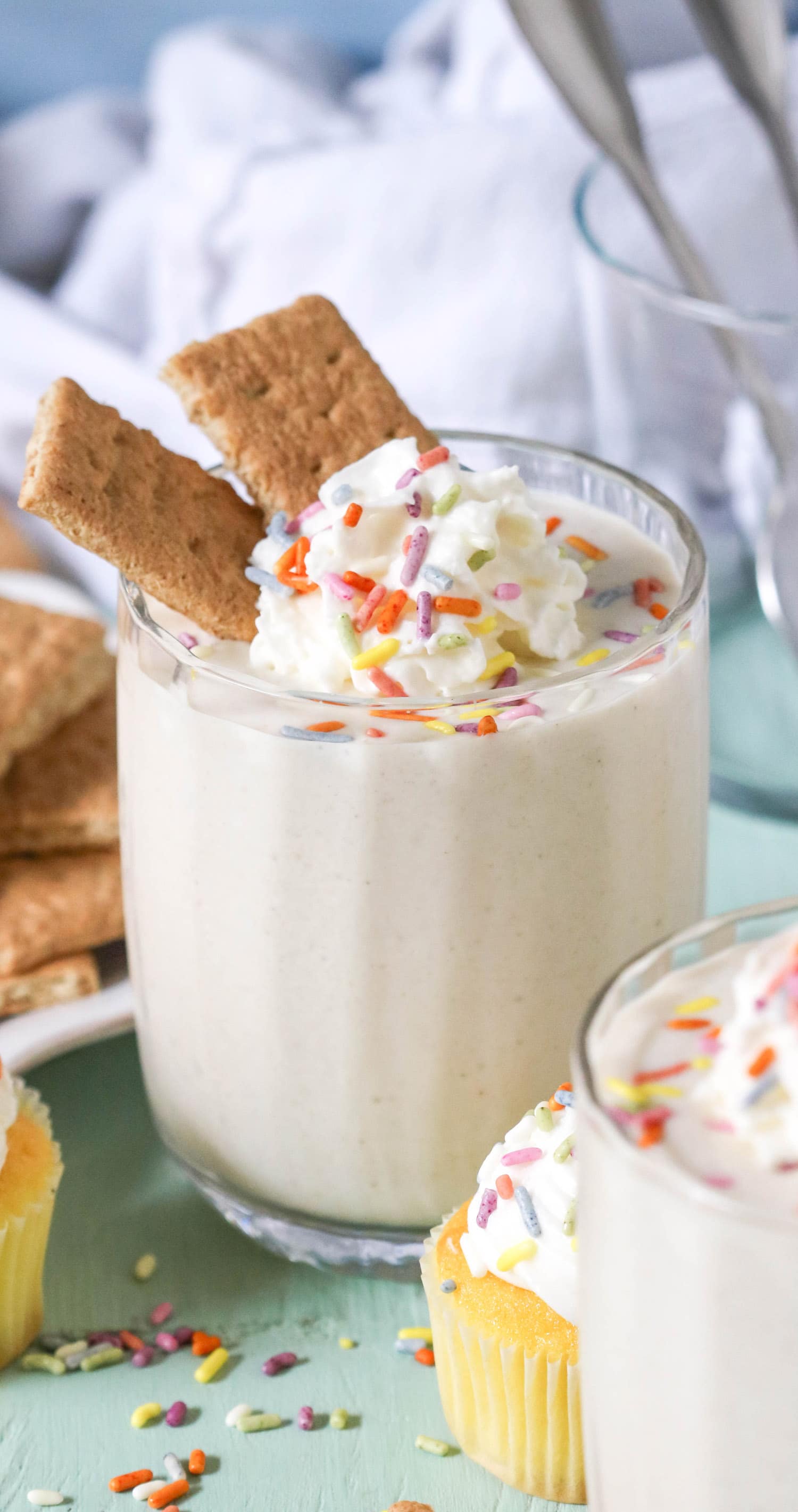 Healthy Cake Batter Dip…  without the healthy taste!
I mean, how can you complain about that?!?
Everyone who tried this dip couldn't believe it was sugar free, low fat, high protein, and gluten free.  Oh, and actually good for you too.
I could most definitely eat this Cake Batter Dip allllll daayyyy looooong.  Seriously.  I'd take a bowl of this dip over a bowl of my favorite overnight dessert oats, a bowl of my favorite cereal…  heck, I'd choose this dip over a bowl of CANDY.  And you know me, I love me some sweets.  So for me to choose this dip over candy like White Chocolate and Snickers, you know this has gotta be good!

Healthy Cake Batter Dip
Prep Time: 10 minutes
Cook Time: 0 minutes
Total Time: 10 minutes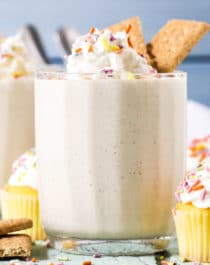 Fat per serving: 2.5
Calories per serving: 120
Ingredients:
Directions:
Add all of the ingredients to a blender (I used my NutriBullet) and puree until completely smooth.
Serve immediately or refrigerate for later (if you let it sit overnight it gets UBER thick)!
Notes:
You can use any milk in place of the almond milk if you like — dairy milk, coconut milk, soy milk, etc.  And if you don't have oat flour, you can substitute it with ½ cup of rolled oats.  If you want a completely sugar-free dip, make these Homemade Rainbow Sprinkles instead of using the storebought ones!


All images and text ©Desserts with Benefits.
.
This Healthy Cake Batter Dip is SO much better than the other dessert dip recipes you'll find online.  I honestly kinda get offended when some people call their dips "healthy" when they use boxed cake mix as an ingredient…  tsk tsk  *shakes head*
BUT ONTO THE GOOD STUFF.
I really need to show you the nutrition label for this recipe because it's freaking AMAZING.  I was totally shocked at how low calorie, low fat, and high protein it is.
Daaaayyyyuum!!  How good is this nutrition label??  This Cake Batter Dip is nutritionally balanced with healthy fats, protein, complex carbs, and zero added sugar.  Not to mention, it's modest in calories too.
A typical (aka unhealthy) Cake Batter Dip recipe calls for:  1 box of Funfetti Cake Mix, 1lb yogurt, and 8oz Cool Whip.  Right off the bat, I can list off about fifty things wrong with those ingredients — excess refined sugar, bleached flour, dangerous trans fats (causes stroke, heart attacks, diabetes, etc.), no balance in nutrition…  I could go on, but I won't bore you.
Compared to a ½ cup serving of typical Cake Batter Dip recipe, a ½ cup of my healthy version has:
170 less calories
7.5g less fat
0g trans fats
29g less sugar (the original recipe contains nearly 3 tbs sugar per serving)
9g more protein
Healthy Cake Batter Dip — rich, buttery, sweet, and creamy…  but without the butter, sugar, and flour!

You gotta try this recipe.  I've made this Cake Batter Dip four times in the last two weeks.  And I bet you will too, it's THAT good.  I mean, why take all that time to preheat your oven, whip up a cake, and sit in front of the oven window staring at it slowly rise for 30 minutes, when you can make THIS in less than 10 minutes flat?!?  This super easy dessert dip requires only six ingredients and a few minutes to blend together.  You'll be digging into this cake batter deliciousness in no time at all.
So quick, grab a spoon!  ?
.
With love and good eats,
.
– Jess
.
Source link
Get more stuff like this
Subscribe to our mailing list and get interesting stuff and updates to your email inbox.
Thank you for subscribing.
Something went wrong.