May 7, 2018
This beautiful Strawberry Tart has a rich and flavorful pie crust, the creamiest, vanilla bean-infused Pastry Cream, and is topped off with sweet, freshly sliced strawberries.
It's hard to believe this delicious tart is dairy free and low sugar too!
Thanks to Immaculate Baking Co. for sponsoring this post, and thank YOU for supporting the brands that keep Desserts With Benefits going!  All opinions are mine and mine alone.

I generally stay away from fancy looking desserts like meringues and gateaus and tarts, but decided to give this Strawberry Tart a try because my mother requested it for Mother's Day.
This might be slightly embarrassing, as I've been blogging for nearly seven years and baking for over ten, but I honestly had no idea what a Strawberry Tart was or even looked like.  So I did a quick search, clicked on every picture I saw, and found my answer:  a buttery, flavorful pie crust, filled with a rich and delicious vanilla pastry cream, and covered with slices of fresh, sweet strawberries.  It's a simple but delicious tart!
Typical tarts like this call for not-so-healthy ingredients like bleached flour, white sugar, and lots and lots of cream and butter. But just because these tarts may be simple, that doesn't mean they're healthy.
This Strawberry Tart is simple and delicious, the Pastry Cream is sweet and speckled with vanilla beans, and the strawberries laid on top are fresh and full of flavor.
Instead of a pie crust filled with hydrogenated shortening, I used Immaculate Baking Co.'s all-natural pie crust.  I adapted my Vanilla Pudding recipe to make the dairy-free pastry cream.  What good choices these were!  My mom is gonna love this tart come Mother's Day  ?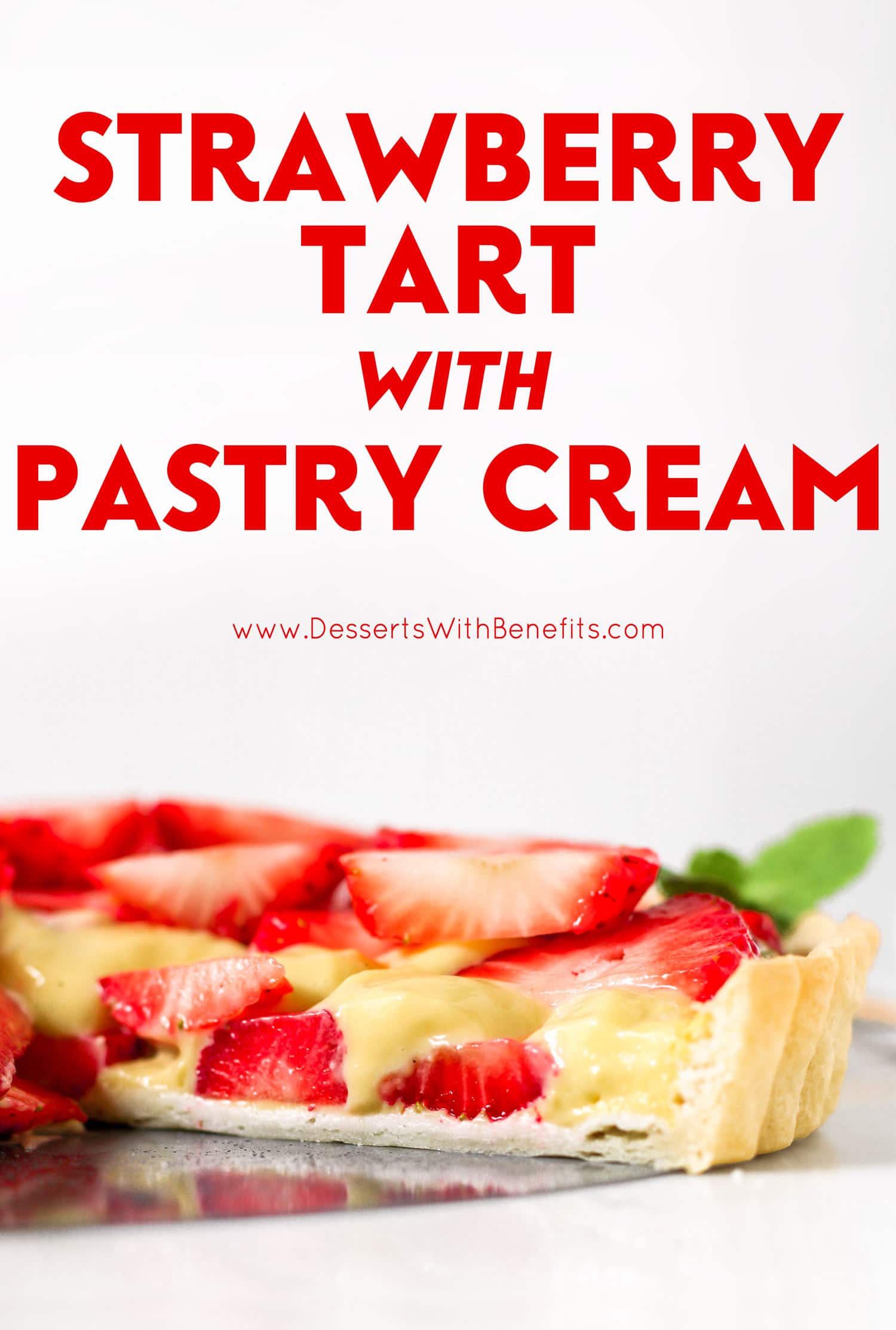 Dairy Free Strawberry Tart with Pastry Cream
Prep Time: 55 minutes
Cook Time: 35 minutes
Total Time: 1 hour 30 minutes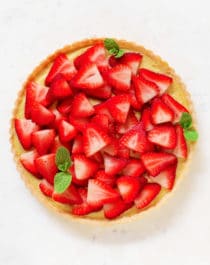 Ingredients:
Crust:
Pastry Cream:
Topping:
2 cups Sliced Strawberries
Directions:
For the Pastry Cream: (prepare the day before!)
In a double boiler over simmering water, whisk together a tiny splash of the coconut milk, the egg yolks, and starch, until smooth.  Then, whisk in the rest of the coconut milk.
Whisk constantly until thickened and pudding-like (it takes me ~13 minutes).  Remove from the heat and whisk in the vanilla paste and stevia extract.
Let cool to room temperature, whisking occasionally.  Cover and refrigerate overnight.
Crust:
Preheat your oven to 350 degrees Fahrenheit.
Thaw the pie crust at room temp for ~20 minutes, or until slightly softened (if you unroll it cold, it will tear).  Unroll the pie crust over an ungreased nonstick 9″ tart pan.  Press the pie crust into the pan and along the pan walls, tearing off any excess crust.  Lay a sheet of parchment paper on top of the crust and place pie weights on top.  Bake for ~13 minutes, remove the pie weights, then blind bake until golden brown (~8 minutes).  Let cool completely.
Scoop the pastry cream into the cooled tart.
Topping:
Arrange the sliced strawberries over the pastry cream filling.  Slice and serve!


All images and text ©Desserts with Benefits.

Enjoy!
.
With love and good eats,
.
– Jess
.
Get more stuff like this
Subscribe to our mailing list and get interesting stuff and updates to your email inbox.
Thank you for subscribing.
Something went wrong.