Mar 30, 2018
These 5-ingredient Cake Batter Energy Bites have got all the flavor of vanilla cake without the added sugar, butter, oil, and eggs.  Yep, these easy, healthy, no-bake energy bites are sugar free, gluten free, dairy free, and vegan!
But shhh, you can't tell  ?

Vanilla Cake made into no-bake Energy Bites?  And they're HEALTHY??  Yes puh-lease.
And did I mention these are suuuper easy to make too?  This is just the recipe for those with busy, jam-packed schedules who don't have time to spend hours in the kitchen baking or cooking.  They're easy to make and easy to pack for snacks on-the-go.  No baking required to munch on these cake-flavored bites!
These Cake Batter Energy Bites are like 15-minute, oven-free cake balls.
Seriously guys.

Healthy Cake Batter Energy Bites
Prep Time: 15 minutes
Cook Time: 0 minutes
Total Time: 15 minutes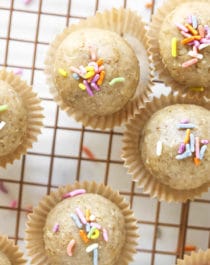 Fat per serving: 7.6
Calories per serving: 130
Ingredients:
Directions:
In a stand mixer bowl fitted with a beater attachment, add all of the ingredients.  Mix until completely even, scrape down the sides of the bowl, and mix one last time.  Cover and refrigerate for 3+ hours or overnight.
Use a cookie scoop to portion the dough out onto a plate.  Roll the dough scoops into balls.  Serve and enjoy!  Store in the fridge for up to 1 week or stash 'em in the freezer.
Notes:
The recipe above is my revised recipe. I originally posted this recipe back in 2015 but thought it could be made a lot easier and with less ingredients.  Just in case you wanted to see the previous recipe and/or the changes I made, I'm providing the old recipe here (which is just as delicious by the way!):
½ cup Homemade Cake Batter Nut Butter
¼ cup Unsweetened Vanilla Almond Milk
1 tsp Vanilla Extract
½ tsp Stevia Extract
⅛ tsp Salt
½ cup + 2 tbs Quinoa Flakes
¼ cup Quick Cooking Oats
1½ tbs Coconut Flour


All images and text ©Desserts with Benefits.
.
Here is the recipe's nutrition label:
Just like the buddy system, two bites are better than one  ?

Well hello there you fine specimen  *drools*
Hope you all enjoy these fudgy and delicious Cake Batter Energy Bites!
.
With love and good eats,
.
-Jess
.
Get more stuff like this
Subscribe to our mailing list and get interesting stuff and updates to your email inbox.
Thank you for subscribing.
Something went wrong.