Apr 18, 2018
This Chocolate Fudge Ice Cream is the best of the best.  Literally, THE BESTEST OF THE BEST ICE CREAMS KNOWN TO MANKIND.
(Yes, all caps were most definitely necessary for that statement.)
This Chocolate Fudge Ice Cream is uber creamy without the heavy cream and perfectly sweet without the white sugar or corn syrup.
And it's made with just four ingredients…  no ice cream maker required.  Heck yes!

This Chocolate Fudge Ice Cream tastes AHHHHmazing.  You can enjoy every bite knowing there's no heavy cream, white sugar, corn syrup, or artificial flavorings hiding in it.  This is ice cream at its best without the nasty ingredients.  You can even enjoy this dessert first thing in the morning since it's made with healthy, natural, filling ingredients (or at least I did…).  It's full of chocolatey flavor, but it's also full of protein, healthy fats, and fiber to balance the treat out and power you through your day.
And if you've ever wondered how to make ice cream without an ice cream maker, this blender ice cream is your answer.  Healthy AND super easy to make??  How can you go wrong?!

You scream, I scream, we all scream for ice cream.  And chocolate.
CHHHHOOOOOOOOOOCCCCOOOOLLLAAAAAAAAAATE!!!
(Please tell me you know the SpongeBob episode I'm referring too.)  ?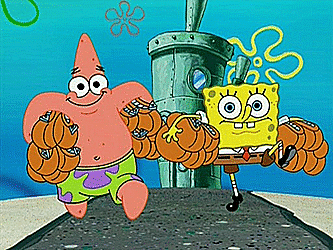 Healthy Chocolate Fudge Protein Ice Cream
Prep Time: 20 minutes
Cook Time: 0 minutes
Total Time: 20 minutes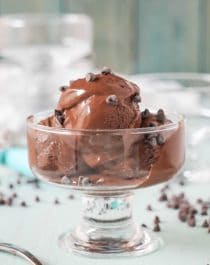 Ingredients:
¾ cup Unsweetened Vanilla Almond Milk (or milk of choice)
60g (⅔ cup) Chocolate Whey Protein Powder
63g (3 tbs) Raw Honey (Pure Maple Syrup or Agave Nectar work too)**
6oz Dark Chocolate, melted (I used 70% cacao)
Directions:
In a blender (I used my NutriBullet), add the almond milk, protein powder, and liquid sweetener.  Blend until completely smooth.
Add the melted chocolate and blend again.  Pour the mixture into a loaf pan and place in the freezer for ~4 hours, or until it's firm enough to scoop.
Serve and enjoy!
Notes:


All images and text ©Desserts with Benefits.
I have made this high protein ice cream on a regular basis for years now.  I think the first time I made this was in 2011.  The first ingredient when it comes to ice cream is heavy cream.  I wanted to omit that so I made a healthier alternative using a mixture of nondairy milk + protein powder, which creates a super thick and creamy texture similar to heavy cream!  Cool, right?  Here's a photo of my very first batch:
Yummy.
Chocolatey.
Creamy.
Tasty.
Healthy.

Share this with someone you love, or treat yourself to it all.  I usually do…  hehe  ?
.
With love and good eats,
.
– Jess
.
Get more stuff like this
Subscribe to our mailing list and get interesting stuff and updates to your email inbox.
Thank you for subscribing.
Something went wrong.