Feb 3, 2018
These 4-ingredient Jelly-Filled Donut Holes will give you life!  They're baked, not fried, and totally guilt-free.  They taste as unhealthy and rich and decadent as regular donuts, you'd never guess that they're low sugar, low fat, and vegan.  You're gonna love 'em!
Thanks to Immaculate Baking Co. for sponsoring this post, and thank YOU for supporting the brands that keep Desserts With Benefits going!  All opinions are mine and mine alone.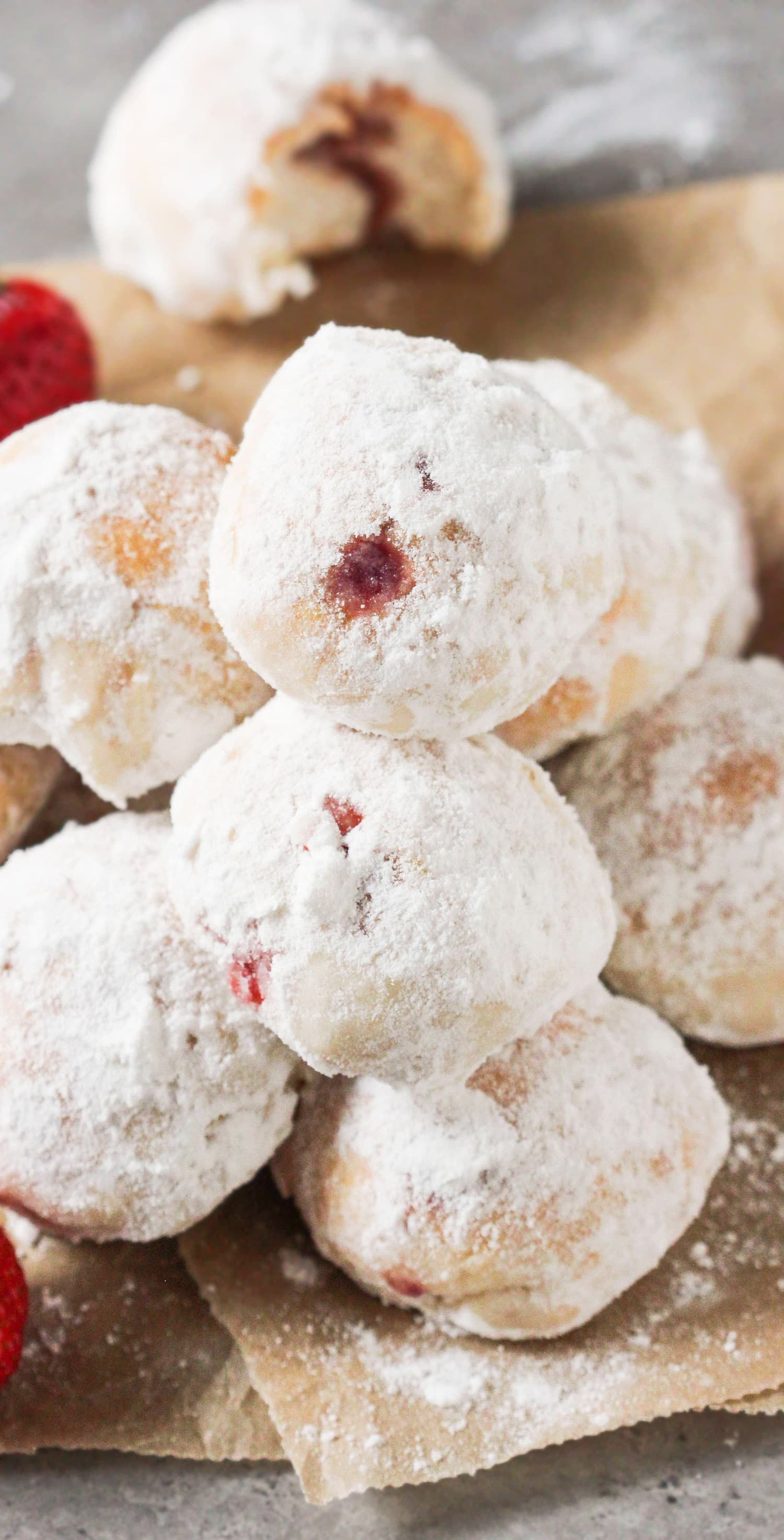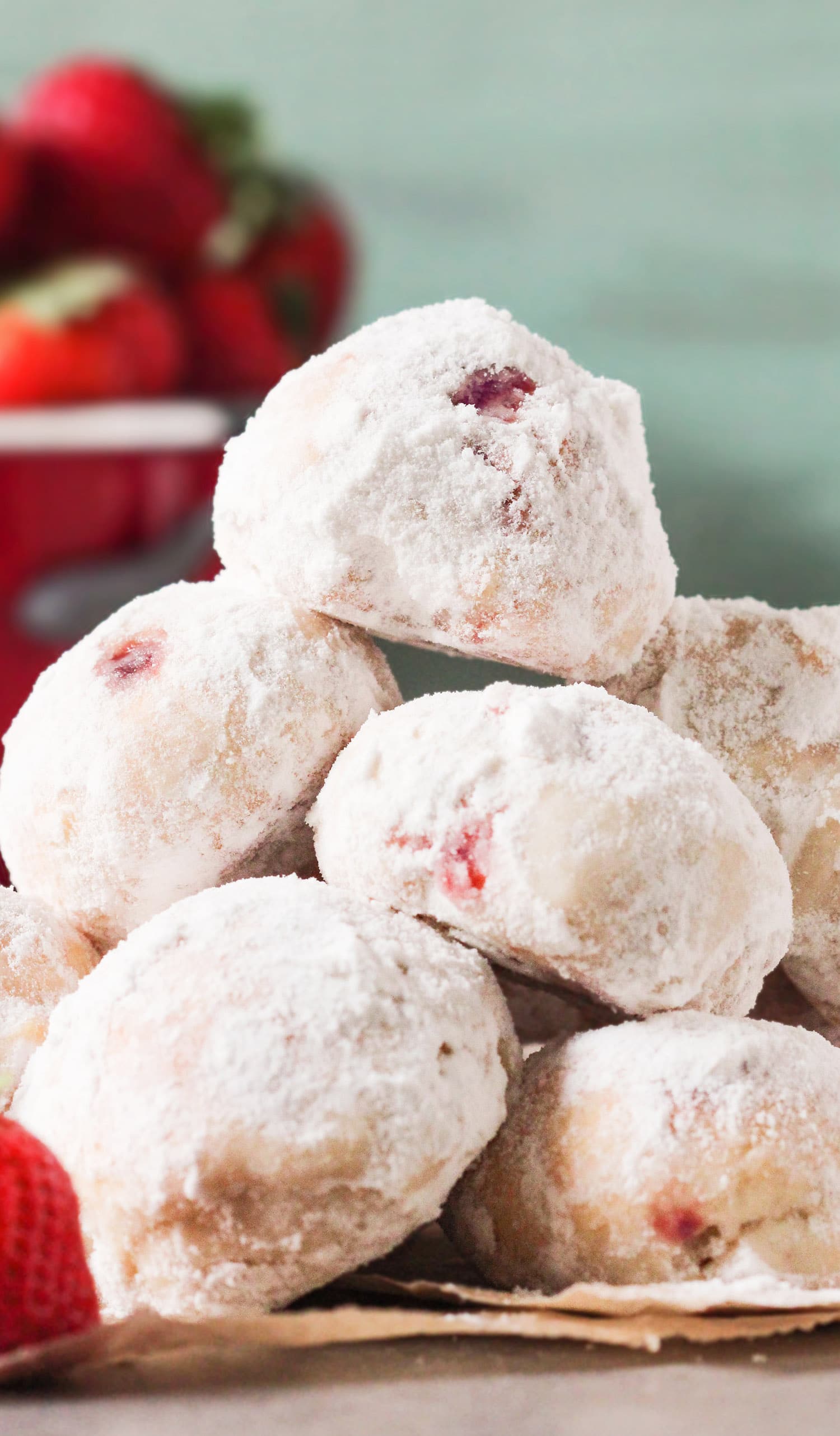 Theres nothin' much better than a fresh batch of soft and fluffy Donut Holes.  Especially when they're stuffed with sweet, strawberry jam and come coated in powdered sugar ?
I used a 100% fruit strawberry spread as the filling for these Donut Holes, but you're more than welcome to use homemade jam as well!  I have 2 strawberry jam recipes here on the blog — one requires cooking and the other is a no-cook recipe.

It's comfort in a donut hole, but without the butter, artificial ingredients, and excess sugar and calories.  BOOM-SHAKA-LAKA!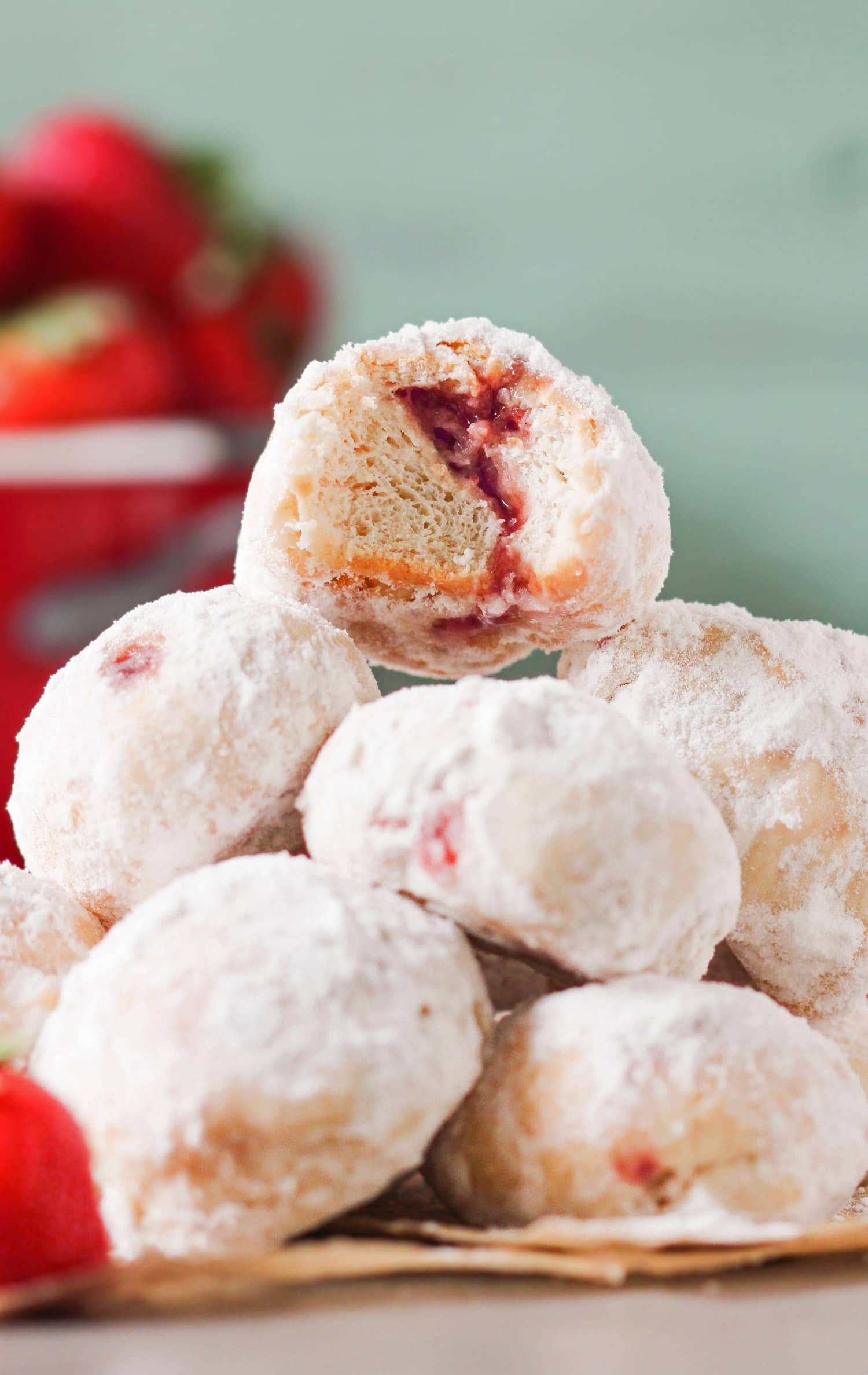 Baked Jelly-Filled Donut Holes
Prep Time: 45 minutes
Cook Time: 15 minutes
Total Time: 1 hour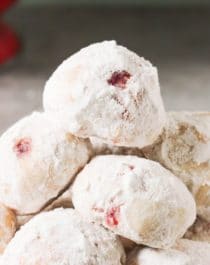 Fat per serving: 4
Calories per serving: 90
Ingredients:
Directions:
Preheat your oven to 350 degrees Fahrenheit and line a cookie sheet with parchment paper (alternatively, you can use a mini muffin pan).
Open the tube of crescent rolls and place the dough in between 2 silicone baking mats.  Roll the dough out until ¼" thick.
Use a 3" circle cookie cutter to punch out circles in the dough (I got 9 circles, and then rerolled the remaining dough to get a total of 12 circles).
Form the dough into balls as if you were filling them with something (like stuffed crescent roll balls).  Pinch the edges of the dough together and give it a small twist to make sure the ball is sealed.  Flip over and the surface of the ball should be round and smooth.
Place the balls on the cookie sheet or in the mini muffin pan seam-side down.  Bake on the prepared cookie sheet for ~13 minutes, or until lightly golden brown.  Let cool completely.
Prepare a piping bag with small round tip.  Use a thick round skewer (or sturdy straw or other round object) to pierce a hole in the side of the crescent ball.  Don't pierce through the other end of the ball, just stop when you feel a bulge on the other side.
Fill the piping bag with the strawberry spread and fill the crescent balls with the jam.
Lightly brush the melted coconut oil over a donut holes, then toss in the powdered erythritol.  Repeat with the rest of the crescent balls.  Serve and enjoy!


All images and text ©Desserts with Benefits.
.
Here is the recipe's nutrition label:
These pillowy soft Donut Holes taste AMAZING.  And yes, they have just 90 calories a piece!
The crescent roll dough yields a light and fluffy texture, the jam yields a sweet berry flavor, and the sugar coating just tops off the sweetness level.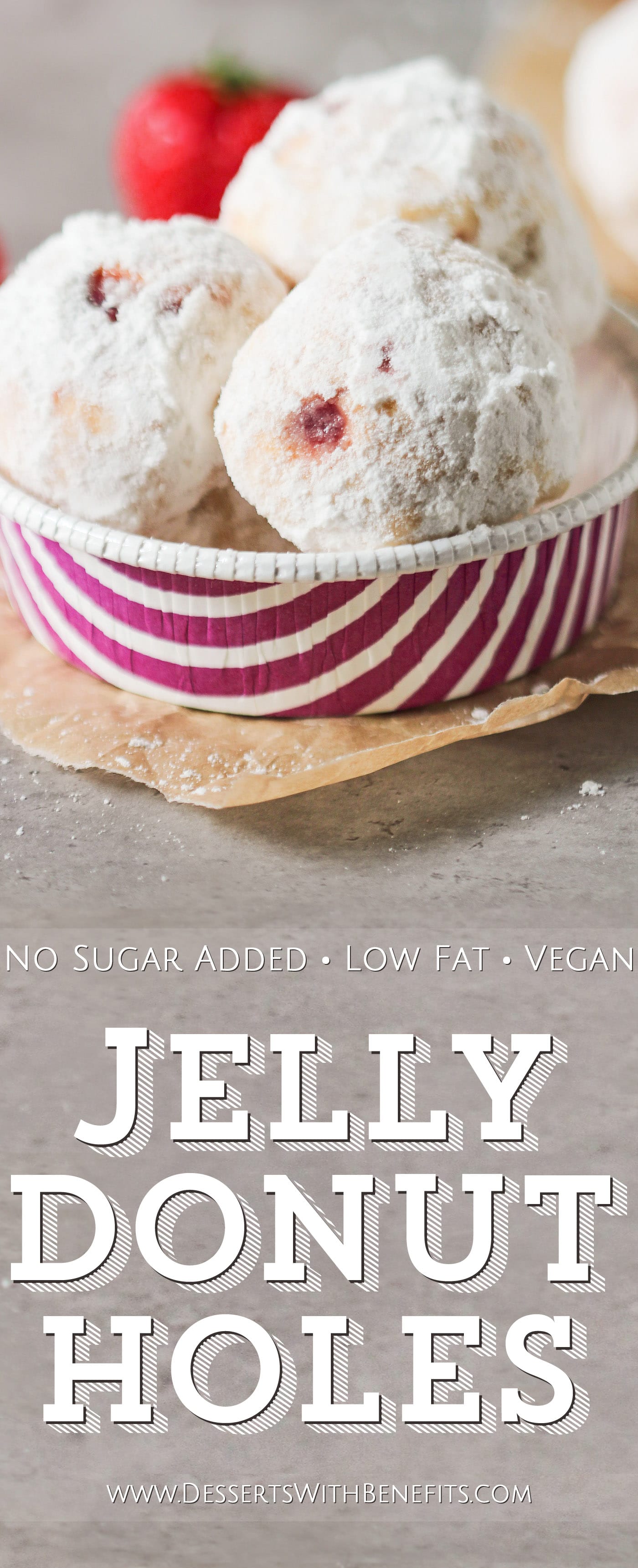 These 90-calorie Donut Holes are totally guilt-free and SO, so easy to make with only 4 simple ingredients.
It's just a bonus that they're low fat, vegan, and have zero added sugar!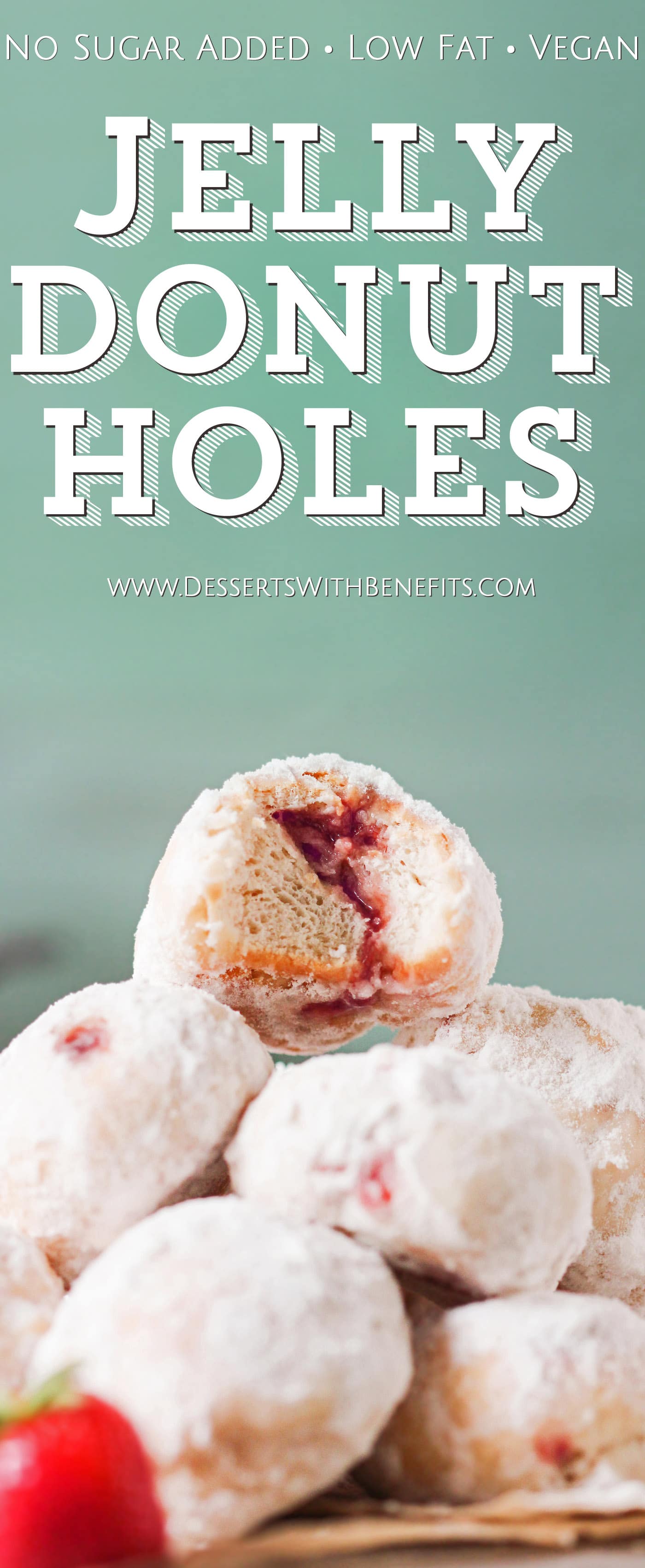 Enjoy  ?
.
With love and good eats,
.
– Jess
.
Get more stuff like this
Subscribe to our mailing list and get interesting stuff and updates to your email inbox.
Thank you for subscribing.
Something went wrong.